Top 5 Small RV Models That Most Rental Companies Recommend
The call to adventure starts on the road, and what better stead to ride out into the sunset with than a recreational vehicle or RV.
The RV is a great option for people who want to discover, explore, and live on the road. Apart from that though, it is a way of life that demands many things for the people who use them. It demands a lot of sacrifice, effort, and financial planning.
On that last note, there may be a better way to handle a person's finances with RVs.
Most people think that purchasing an RV is the only way to go. However, if your finances are a bit tight, there is another option available. This is renting a small RV model. Renting a small RV makes the prices more affordable.
Throughout this article, we'll discuss why renting may – in some cases – be better than buying an RV. We'll also talk about certain features that RV renters need to look out for when renting. Finally, we'll include the top 5 small RV models that most rental companies recommend.
Renting Over Owning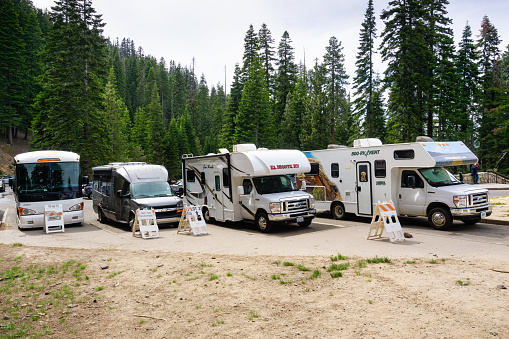 In some cases, renting an RV is much better than owning one. Allow us to present several reasons why renting is better than owning.
Stating the Obvious: Money
One of the most obvious reasons for renting an RV instead of owning one is the money. When renting, you'll only need to shell out money when you need an RV. This is a good thing though, as RV owners won't usually be using the RV all the time anyway.
If you choose to purchase an RV, you must know that it will probably be the second most expensive thing you'll ever buy after a house. The payment sum is massive and you will need to keep up payments for a good number of months.
Storage and Maintenance
If you choose to rent an RV, it will take several costs out of your hands. The first is storage. Since you'll only be renting an RV for a time when you actually need it, you won't need to find a storage location for your RV after you use it. Instead, you'll just need to return it.
At the same time, since you don't own the RV, you won't need to maintain the RV as well. The company you rented it from will be in charge of that.
Both of these also factor into your costs. No storage and maintenance mean you get to save more!
Experience it First
If you aren't sure what it is like to own an RV, or even how to drive and maintain one, why not try renting one first?
The renting experience will allow you to tinker and experiment with an RV.
An RV is a very different and specific way of living. If you don't have that much experience around RVs, perhaps renting is better first.
For one, it will show you what it takes to own an RV. This will also allow you to familiarize yourself with the many requirements for owning an RV. More importantly, it allows you to take your time while getting acquainted with it.
This does not only serve to improve your RV experience. It will also give you significant experience with the RV rental companies. You'll be able to see what they offer and which rental company is the best one.
What Should You Look For?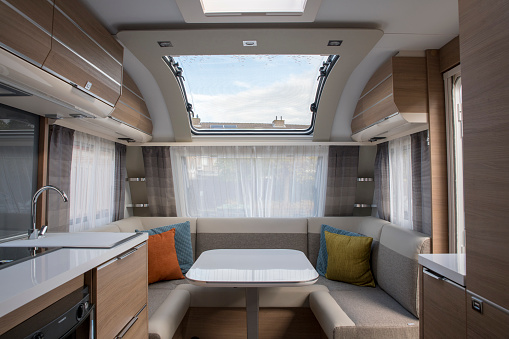 Now let's move on to certain features that you should look for when renting an RV. For first time renters, this can serve as a guide for what RV you should be looking for.
Spacious Bathrooms
No matter what other amenities and features you might have in an RV, one thing that you and your family will use a lot is the bathroom. If you have the ability to choose, why not go for a big bathroom?
Some choices you have include a separate shower and toilet. Other RVs have no separators and often come in tight spaces. And believe us, a shower is a huge plus.
Kitchen Amenities and Storage Space
If you're taking a trip, it may serve you and your bank account well if you cook for yourself instead of buying meals every night. That's why one of the good things that you can ask for when renting an RV is a kitchen with sufficient storage space.
Kitchen amenities include a stove, an oven, and even a microwave. It's everything you would need to cook for you and your family. However, one other thing is storage space. This will allow you to buy as many as materials and plan for numerous meals on the road.
Comfort and Ease
The final couple of things that you can look for is comfort and ease. First, why not rent an RV with a cool and reliable air conditioner. This is essential for those hot summer days. Check out the list of the best RV air conditioners to know which one you should be looking out for.
Also, if you can, look for an RV that has the space for a washing machine. This will save you time and money down the road since you can do the laundry yourself instead of going to a dry cleaner. Check out the list of the best washing machines here as well.
Top 5 Small Recommended RV Models
Now that you know when to rent, as well as certain amenities to look for, let's move on to the top 5 small RV models that rental companies recommended.
The reason we recommend smaller models right now is because for the inexperienced and uninitiated, starting small will educate you on the ways of the RV. It can also be the stepping stone for you to move onto bigger and better RV models.
Gulf Stream Conquest Class C Motorhome
The Conquest Class C Motorhome is an affordable RV that is perfect for family trips. Gulfstream is a company that has been around for 35 years, continuously innovating the RV experience.
It is 32 feet wide and can fit as many as 8 people for sleeping. You can also choose from a total of 12 floor plans, so you can choose how to best own and maximize your space.
Similar features include a basement storage, cabinetry made from light cherry wood, and good interior fabrics. If you upgrade to the luxury package, you'll be able to avail of some interesting things.
Thor Chateau Class C Motorhome
The Thor Chateau Class C Motorhome is one of the most famous and sought after smaller RV models. Versatility is the key to this model. The number of different floor plan types (22) is varied and offers many unique features.
Just to give you an idea, one floor plan offers features like an outdoor kitchen, a TV that can swivel to the outside, and even an awning that you can use to your advantage no matter the season or weather.
Dynamax Isata 3 Class C Motorhome
Dynamax's Isata 3 Class C Motorhome combines the good family life with the machine strength for towing. You'll enjoy both the luxury of a home to your family's benefit, as well as the ability to tow anything behind you.
The bathroom has a shower and a skylight that you will enjoy. The kitchen also has a gas range, a microwave, and even a refrigerator with an ice maker.
There are three different floor plans to choose from. This makes the choice limited, but also simple.
The Winnebago View
This model is a great choice as it includes a pretty massive bed (50 by 79 inches), a convertible dinette, and many more. All in all, the Winnebago View was made for the whole family.
Other features include an infotainment system that can react to your voice. It also has some of the most advanced technological features like lane assisting and brakes assist.
Thor Quantum Class C Motorhome
This specific model has your budget in mind. An affordable RV model with a host of features that are sure to make your stay relaxing and comfortable.
This model is equipped with a queen sized bed, a wardrobe slide for all the clothes for your trip, a three burner cooktop, a microwave, a 70" Dinette, a 60"+ jackknife sofa, and so much more.
The Thor Quantum Class C Motorhome is a great choice that is guaranteed to give you a good experience.
Bigger Isn't Better
We've spoken about the reasons for renting versus buying, some common features that RV renters look for, and the top 5 small RV models that most rental companies recommend.
Big isn't always better. Sometimes, it is necessary to start at the beginning. Baby steps will eventually lead to strides. Renting an RV will turn into buying one if the circumstances are right. The smaller models will eventually make way for the big ones.
We hope this will help you with renting and deciding on which RVs to rent. Stay safe on the road everyone, and we hope that you enjoy your RV experience.
---