RV's Living Room Must-haves

There is a reason why the living room is at the center of many – if not most – houses or living areas. Simply put, it is where living takes place! Or at least it is the place that has space for activities other than eating, sleeping, and going to the bathroom.
The living room is important because when you wake up and have to do something, chances are you'll do it here. Many people have different uses for the living room. It could be for reading, working, relaxing like a sack of couch potatoes, entertaining family and friends alike, and so much more.
The same thing applies to the RV. When you aren't driving on the road or exploring some interesting new location, chances are you'll end up spending a lot of time in the living room.
RV Family Life would like to present several RV living room must-haves. Use these must-haves to maximize and improve your living room. It also ensures that the living room gives you the most use as well.
Bear in mind though that we won't only be talking about pieces of furniture, but also several style and design choices that can spruce things up a bit.
The Must-haves
Color
Seems odd that color is the first Rv living room must-have? Well, we thought so too, but bear with us and we'll show you why.
Just because an RV is a vehicle doesn't mean you need to skimp out on the "home" aspect. The RV is both things, and you should design it that way. This goes double for living rooms, as it is the single room that most people get to see and spend time in.
With regards to color, we urge you to design your RV's living room like you would the living room in your own house. The effects are staggering as people will step in and be confused that the living room doesn't look like one in an RV at all.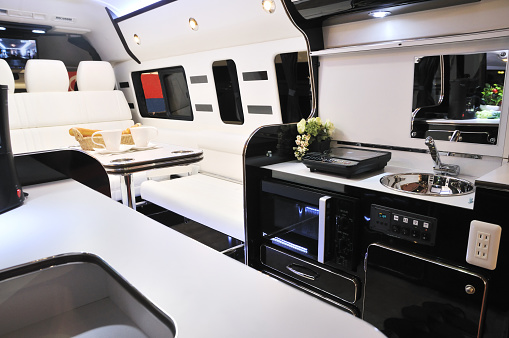 Standard rules apply: pick up to three different colors to design your living room space with. Two is also acceptable. This goes for the walls as well as the many decors that you'll place around.
However, rules really are meant to be broken. If you aren't digging how limited you are with 2 or 3 colors, then you really don't have to. Many other RV owners have filled their living rooms with many different colors.
For this approach though, try and have a theme in mind. For instance, you can buy certain items all with a very warm color. Warm colors give off a very tropical vibe, and if you add a plant or two in there, all the better for how the living room feels.
If you will be redecorating often, one tip we could give you is to purchase multiple pillowcases for the living room furniture. Each new pillowcase could be in a different color that could be easily matched to whatever color you choose next.
Jackknife Sofas
What would a living room be without a sofa to relax on? Living rooms and sofas go together like peanut butter and jam. And a jackknife sofa is a great choice for your living room sofa.
A jackknife sofa is a sofa that allows you to make it into a bed. With a simple pull of the seat, you can extend the body and lay down on a nice comfortable bed. This is the primary reason why we'd recommend jackknife sofas (if your RVs have the space for it that is). It provides you with extra sleeping or snuggle spaces as you relax in your living room.
Apart from that though, the jackknife sofa has so many other benefits that you as an RV owner will appreciate.
For starters, it is a very lightweight piece of furniture. You can easily bring it around or rearrange it to any corners of your RV. Additionally, these jackknife sofas mean that you won't need to think about any kinds of mattresses anymore.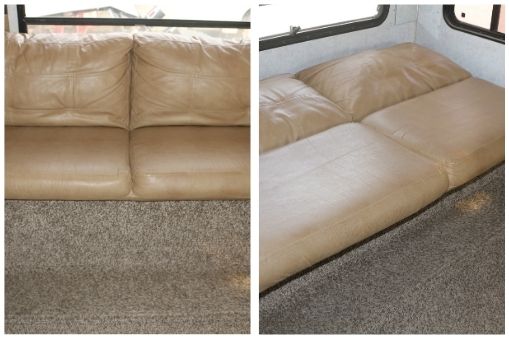 Most jackknife sofas are made from either cloth or leather. It truly depends upon the manufacturer that you are looking at. However, what this really means is that it offers you the same comfort and style as a regular sofa.
The length of the jackknife sofa could go anywhere from 60 to upwards of 70 inches.
The best part? It really isn't that expensive. When compared to beds and sofas respectively, the jackknife sofa comes in at quite an affordable price for everything it offers.
If this has gotten you interested but you aren't quite sure which model to look at, we'd recommend the RecPro Charles. Generally speaking, this jackknife sofa is one of the best in the market.
This sofa is soft to the touch, but also sturdy and durable. Comfort will not be a problem for anyone who sits on it, and any fussy sleepers won't need to worry as it can carry all the weight with its sturdiness.
Smart TV
Now for the pièce de résistance of any modern living room; the television. The living room is the room where the television is placed. It is the area where people gather to consume the culture of times past, present, and future.
A great choice for the modern RV would be the TCL 28S305 28-Inch 720p Roku Smart LED TV. The dimensions of this set are 25.3" by 17.1" by 7.3". All in all, not really that big as to be unwieldy.
This TV is a smart TV that provides a stellar 720p of quality. While the picture doesn't reach ultra HD or even 1080p, 720p will still be able to wow you with the details of fidelity of the picture.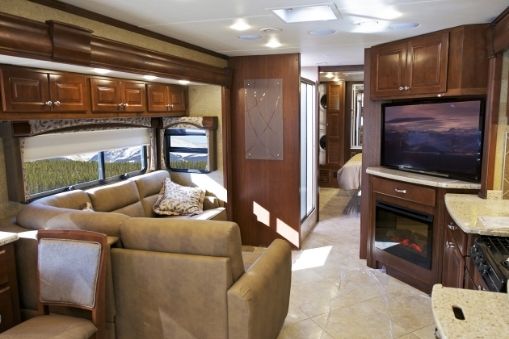 Watch everything from Netflix, Amazon, and many more on this device. With just Netflix and Amazon alone, you'll have so much to watch already that you'll probably spend extended hours in your living room.
The interface is very simple and intuitive. You won't have to worry about complicated menus and walkthroughs. It is designed for simplicity and ease of use.
The only finagle we here at RV Family Life have seen with this moment is that it does not have any LAN cable ports that allow you to jack into the modem or router directly for quicker internet speeds.
However, the dual-band Wi-Fi means that connecting to any Wi-Fi signal affords you considerable speeds still. It is a great choice for any RV living room.
Live it Up
Up to now, we have discussed items that will allow you to: decorate your RV's living room into a hospitable hotspot akin to a home, purchase the right type of furniture to ensure comfort and stability, and get the right entertainment system to make your living room an enjoyable one.
The only thing left would be to do our tips and live it up. Whether in or out of your RV – out in the world or in the comfort of your own living room – we hope you live life to the fullest and enjoy every second.
Happy travels.
---