Top External Amenities RV Owners Should Consider Buying
Picture this: it's been a long day on the road and you want to relax. The sun is setting, painting the sky a warm orange. A cool wind blows through and you are thinking of enjoying the beautiful environment all around you. With each journey, the environment changes, giving you a variety of landscapes and sights to appreciate.
This is one of the benefits that you have with an RV. With a house, you are stuck with the surroundings that you have. With an RV though, your backdrop is dependent on the whims of your adventurous spirit.
The RV is a home that you can bring with you. You can fill it with many necessities and essentials that make it a comfortable stay for you. However, always staying inside may feel tiresome. An RV was meant to be used to also enjoy the great outdoors.
While people can simply step outside of their RVs and enjoy what is outside, there is no reason why you can't spruce things up a little bit by purchasing some rv external amenities.
Here are some top external amenities that RV owners should consider buying.
External RV Amenities
Awnings
With an RV, you can stop at any time and enjoy the views afforded by the world around you. However, in some cases, the weather might get in the way of your enjoyment. The sun might shine down an unbearable heat or rain could shower down on you.
This is where RV awnings come into place. There are several types of awnings that you can choose from, with each type serving a specific purpose.
As just mentioned, there are awnings that you can purchase to help manage the weather around you. Pull this type of awning out and sit under it to get out of the sun or the rain. This type of awning is called the door and window awning.
Another type would be the slide-topper awning. This type of awning is used to keep debris off of RV roofs. Finally comes the patio awnings which extends out and gives people more areas to use.
Some RVs would have awnings included. If it doesn't though, we're here to talk about several of the best RV awnings you can purchase. These awnings are easy to install yourself, or you can have the experts do it. They will come in handy for many years with little required maintenance.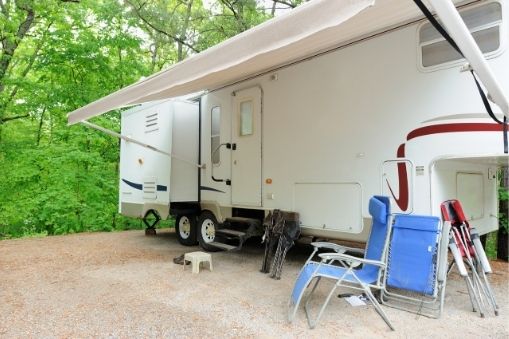 The first awning to look at is the Lippert Components RV Solera Awning. This awning is very reliable for protecting you from the inclement weather, dust, sand, and debris.
For installation, all you need to do is connect it to the wall of the RV on the outside, as well as the slide room. Afterwards, it is good and ready for use. This permanently attached awning can now easily be pulled out. It even has a feature to retract automatically with your RV's slide out.
The Solera can extend to as much as 50 inches. This is 8 times bigger and longer than most awnings you can find in the market right now.
The final feather in the cap of this awning is its design. Apart from the heavy duty nature, it also comes in a great black color that helps to keep the sun out and you protected in the shade.
External Kitchen Amenities
At RV Family Life, one of the tips we always reiterate is to ensure that your RV has a kitchen installed. This allows you to save some money (as you don't need to keep buying food in stores or restaurants) and prepare the meals the way you want them to.
There are some times though where it is more ideal to cook things outside your RV. For this, it may be ideal to procure a camping stove. When the day outside is nice, sitting under your awning and the more time you spend outside, the more likely you'll get hungry.
When that happens, you can just pull out your camp stove as well and whip something up. Apart from this, there are some meals better cooked outside. Some foods can emit an odor that can stick to the insides of your RV. These include foods like bacon and fish. Move the cooking outside and the odor is not a problem anymore.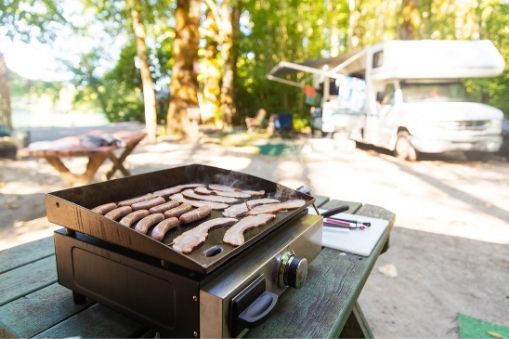 One of the best stoves that you can use outside the RV is Coleman's Classic Propane Stove. Overall, it has everything that you need for your external cooking needs. This specific stove has been used for years, which speaks to just how effective and useful it is.
It is able to be used for a variety of purposes, like cooking eggs and heating up soup. It is also fairly durable and easy to use. It is a long lasting stove that, if kept right, can be used for years without any glaring issues.
The only thing left to enjoy the meals you've cooked on your stove is a couple of chairs and a table. For these items, ensure that you purchase foldable chairs and tables. This allows them to not take up too much space inside your RV and have them be brought out and set up easily when you need them to outside.
Entertainment
The final external amenity that we'd entreat you to buy is an entertainment system. Several of the high end RVs will already have installed amenities. You'll see some RVs with huge stereo systems that are revealed when an external wall is slid up.
These definitely look like attractive external entertainment amenities. However, these days, there really is no need to spend on such large entertainment suites.
Instead, you can purchase a nice affordable bluetooth speaker instead. There are many small bluetooth speakers that will easily allow you to connect your devices to it to play music.
Enjoy Fully
Wherever you are and whatever you end up doing in your RV, we want you to enjoy all facets of your life. Whether you are exploring a new area, staying in your RV, or taking in the sights outside of your RV, we hope that you enjoy all of it as fully as you can.
These external amenities that we've listed will surely help you enjoy the outdoors more. Consider buying them and take a step outside your RV to take in the sights and just enjoy the great outdoors.
---