Basic Amenities That Every RV Should Have
Living in an RV is an exciting opportunity. It is a call to adventure. A way to explore various locations and locales.
More than that though, the RV life requires a commitment from the owner. It is a massive change in lifestyle that must be studied and understood. Otherwise, RV owners may be experiencing a bad time.
If you fail to know the ins and outs of the RV, as well as knowing what basic amenities are needed, this could drastically affect the experience for the worst.
Fortunately, we here at RV Family Life are here to help you out by talking about the basic amenities that every RV should have. Think of these items as the credit card that, as the old commercial says, you can't leave home without.
First and foremost, we'll talk about some RV living essentials. These are items that are for general living purposes. If that is confusing, think of it as the items that you will need as a bare minimum to live on your RV.
Cooking Essentials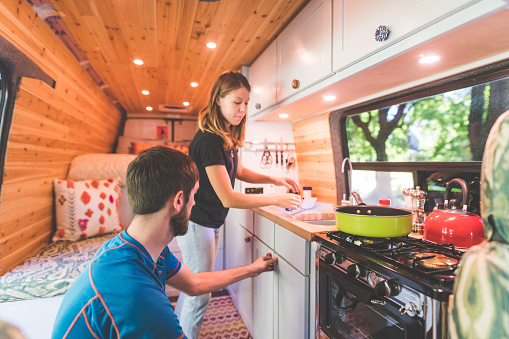 One of the first things that you should think about when going on your RV trip is the food. How will you feed you and your family throughout the trip?
If your RV doesn't have a kitchen or even a grill yet, think about installing those first. With them, you'll be able to easily prepare food for all your meals.
Of course, along with the kitchen and the grill come all the kitchen amenities like pots, pans, tongs, dishes, plates, cups, can openers, utensils, silverware, and whatever you think you may need for cooking your meals.
Some RV owners think that they are alright with not having anything to cook with on their RV. It is true that there are many restaurants and stops on the way where people can buy food. However, in terms of cost, turning to restaurants all the time will prove to be a costly endeavor.
If you purchase your own ingredients, you can prepare your own food any time. Moreover, you can prepare it anywhere too. You must think about if your RV breaks down somewhere or if you find yourself far away from civilization. With a kitchen or a grill equipped, you will be kept fed and energized.
Living Essentials
Next up are the essentials for basic living. These are items that you'll need to, well, just basically live on your RV.
Beddings and other linens
For starters, think of how you and your family are going to sleep. I see some eyes rolling, but a good night's rest will do wonders for people on a long journey.
Thus, think about bringing essentials like bed sheets, pillow covers, the pillows themselves, and even blankets or comforters for those cold nights. These amenities will allow for a more relaxed time when you sleep.
Towels
Another often overlooked essential would be towels. Bring all kinds of towels, for each have their use. They include bath towels, face towels, hand towels, towels for drying the dishes, and even beach towels for those spontaneous times when you head down to the sandy coast.
These towels will not only help you dry off, they will also help save time by allowing you to dry dishes.
Cleaning Supplies
You'll also want to make sure to bring cleaning supplies. As the saying goes, a clean RV is a happy one. More than being happy though, keeping your RV clean will allow you to stave off any diseases or viruses that come with it.
As such, it is best to bring items such as chemicals, soaps, vacuums, and even your handy dandy mop. Remember to make some time to clean your RV.
Medical Supplies
The next set of items would be a first aid kit, medications, and prescriptions. We would never wish sick or harm on any person. However, if and when it comes though, it is always best to be prepared.
With the right medications at hand, you stand prepared for the flu, a fever, or things like asthma when they hit you and your family.
Electronic Gadgets and Entertainment Items
Of course, living is not complete these days without the electronics we use and the things that keep us entertained. Without entertainment, people quickly grow bored and weary on the road.
When you bring your electronics though, do remember to bring the chargers of these items.
Other entertainment items would include books, games, coloring books, knitting materials, and whatever you enjoy that can help you pass the time productively.
Other Amenities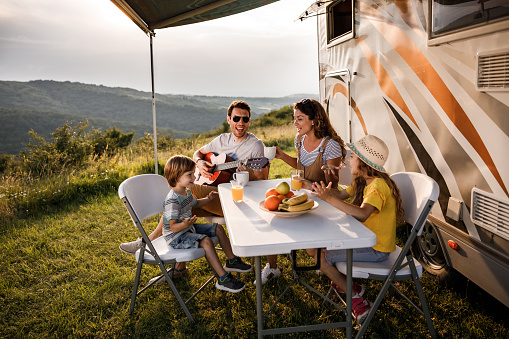 Other amenities that you should bring are those for the bathroom and the outdoors.
Just like cleaning your RV, cleaning yourself is as important. These are what the bathroom amenities are all about. Remember to bring things like soap, shampoo, conditioner, and body lotion.
Staying clean will not only keep you healthy, it also keeps you in a great position for when you go out of your RV and meet people. You come out looking clean and presentable.
Another good bathroom amenity you need to bring is toilet paper and toilet cleaning chemicals. We'll leave you to piece together why these are important.
Now living in an RV doesn't necessarily mean that you should always be inside the RV. When you are at parks or are parked somewhere safe, you can relax outside, if you have the right outdoor amenities.
Outdoor Amenities
For outdoor amenities, you'll want to include chairs. Whether it is furniture that you can easily bring out, or furniture that is specifically used outside, it can be great sitting outside on a summer afternoon.
You may even want to throw in some tables and invite other people over if you meet some at parks or camping grounds. Then, you can set up a party.
At night, extra LED lights will help to keep the surroundings lit. For the parties, it can keep going even when the sun goes down. If you just enjoy the outdoors, the lights will allow you to see in the dark. This also adds an extra layer of protection, as you can tell if people are coming.
The final outdoor amenity that you should bring is candles for bugs and bug sprays. There are certain candles being sold that when lit, can help keep insects away from you and your family. At the same time, you can just use bug sprays and keep your skin and selves healthy from insect bites.
---