Leading Entertainment Options that Every RV Should Have
Life on an RV means life on the open road. It means going to distant unexplored vistas to take in the culture, accumulate experiences, and cultivate important memories. The world is vast and there are many places to discover and venture to.
However, life can't be full of adventuring out in the world. Sometimes, it just feels good to kick back in the RV and entertain yourself. You can watch a movie or a TV series, listen to music, and see what other art or culture is out there in cyberspace.
It is always nice to have great entertainment options and gadgets in your RV whenever you feel the need to just escape the world and just enjoy yourself.
RV Family Life is here to talk about the leading entertainment options that every RV should have.
Leading RV Entertainment Options
Stereo Systems
If art like paintings and pictures is the way we fill space, then music is the art that paints the times of our lives. It is why our hearts have beats. What's life without a little music, right?
In order for you to enjoy music, we've come up with several of the best stereo systems that you can install in your RV.
The first stereo system on the list is the Jensen JWM60A Bluetooth Wall Mount RV Stereo. This specific stereo system combines the functions of a radio we all know and love with the hi-tech capabilities of a smartphone.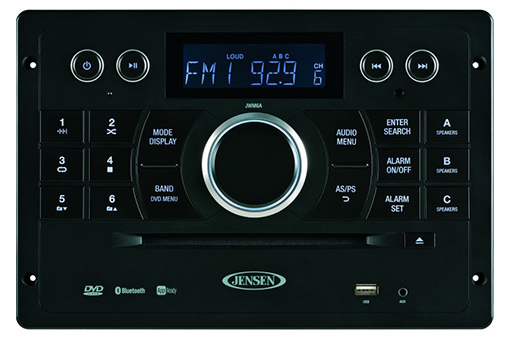 Downloading the jControl app in the app store will allow you to instantly control the stereo through your phone or any bluetooth device. This provides a convenience and ease when at rest or even when travelling on the road.
Connect your phone instantly and play songs from the files in your phone and even your favorite song streaming apps like Spotify and iTunes. For the songs in your phone, the JWM60A is compatible with many different file types or formats like MP3 or WMA.
The effective range of this stereo system extends to more than 30 feet. This means that wherever you are inside the RV, and even if you take several steps outside the RV, it will stay connected.
If videos are more your speed, this unit still has you covered. You can play video file types on this unit such as DVDs, MP4, and even check out some photos as it also reads JPEG files.
Lastly, it can also act as a quick charger for your phone with the USB input installed there.
Another unit worth checking out is the BOSS Audio BV6658B RV Stereo. Much like the first unit, this one can also play the radio, music from your phone, videos, and DVDs too.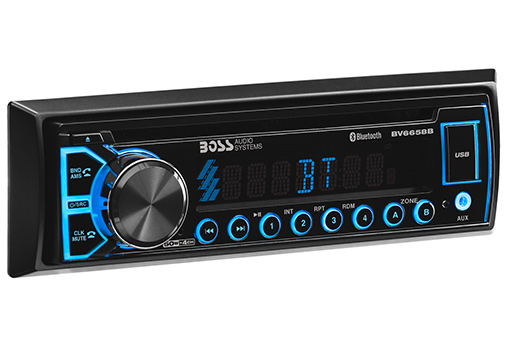 The USB slot here also allows you to charge your phone. It also allows you to put files into a USB and plug it in to play it on the stereo.
For connecting your phone, you can connect it via bluetooth or an aux cable. You'll be streaming your songs through this premiere stereo unit quite easily.
One special feature though is the zone function of this stereo. This unit allows you to play different things in different zones of the RV. If you set up some speakers in the front of the RV and some at the back, you can choose two different things to play on each set of speakers.
This means that your family will no longer need to fight about what music will be played on the road.
However, the best feature of this unit has to be its price. With all the functions and features that it has, the fact that it is more affordable than other stereo system units is a steal!
Televisions
Right at this moment, it is safe to say that there are a ton of great movies and television shows that people can enjoy. No matter the preference of genre, there is something out there for everyone to watch and be happy with.
In order to do that though, you first need a television for your RV.
The unit we have eyed is the TCL 43S325 1080p Smart LED TV. With the advent of streaming services, this smart TV is perfect for the RV.
For starters, let's talk about the quality. This television unit can reach up to a glorious 1080p, ensuring that what you watch comes out in stunning high definition. This allows you to be more engrossed in what you are watching, while also appreciating the details of the show.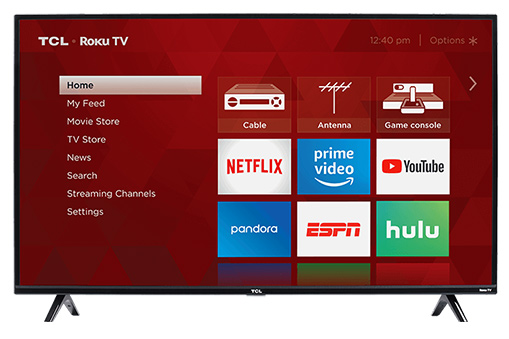 It must also be noted that this unit is a Roku unit. This means that it has all the functions a Roku TV does. This includes streaming sites like Netflix, Hulu, Amazon, and even YouTube. You'll have access to so many titles that constantly change and add each and every month.
Your problem is trying to find the time to finish everything you want to watch!
The unit also has a HDMI cable, a headphone jack, and a USB slot for if you want to attach a hard drive. The HDMI port allows you to attach gaming consoles to it and play video games.
There are several sizes available for this unit. We'd recommend the 32 inch size, as it may conveniently fit most RVs. However, if you do have the space and want to go bigger, by all means.
With all the features included, you'd think it would cost a fortune. That can't be farther from the truth. It is actually quite affordable for everything it offers.
Other Items
Here are a few other items that can help supplement your entertainment options. As we all know, the internet has become quite the necessity in people's lives. It allows people to search for vital information, reach out to friends and family, and so many other things like streaming movies and music.
Since people are constantly moving in an RV, cellular data still reigns as king. There are many carriers that offer great mobile data. For RVs, we'd recommend you try a good Verizon plan. The right plan would depend on how much internet you and your family use.
A 15 GB plan would be sufficient for moderate usage. However, if that isn't enough, try purchasing the Verizon Jetpack Mobile Hotspot. This device allows for other devices to connect to the internet signal it emanates. It provides an extra 15GB of internet for all your needs.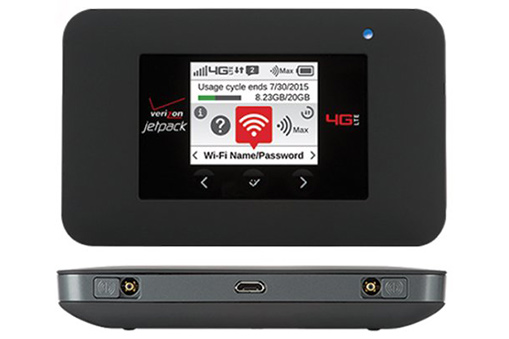 Another item would be a gaming console. Video games are another medium that can entertain you and save you from boredom. You can choose from Microsoft's Xbox One, Sony's Playstation 4 and 5, and Nintendo's Switch.
Your choice here would basically depend on the game titles that you'd like to play. There are certain titles that are exclusive to a certain console. Do your research before purchasing a console so there will be no regrets afterwards.
Entertain Yourself
Securing any and all of the items we have laid out will do wonders for you and your family. After a long day adventuring on the road, it is nice to just lay back and enjoy music, movies, and video games every once in a while.
Live a good full life and stave off any spikes of boredom with these great entertainment options.
---