Essential Spring Cleaning Tips for Recreational Vehicles (RVs)
Spring is just around the corner and for most of us, that means we'll be spending time outdoors more than usual.
After the long winter, it is time to break out your RV and enjoy the warmer weather. Before you go on a trip though, you'll want to make sure your recreational vehicle (RV) is clean and good to go.
Keeping your RV clean, organized, and decluttered can ensure that you'll maximize the enjoyment of your upcoming RV trip.
After the long winter, it'll feel great to break out your RV and enjoy the warmer weather. Before you go on that exciting trip though, there are some essential spring cleaning tips for recreational vehicles (RVs) that you will want to follow.
These easy cleaning tips can help make sure your RV is fresh, clean, and ready for an enjoyable outdoor adventure in no time!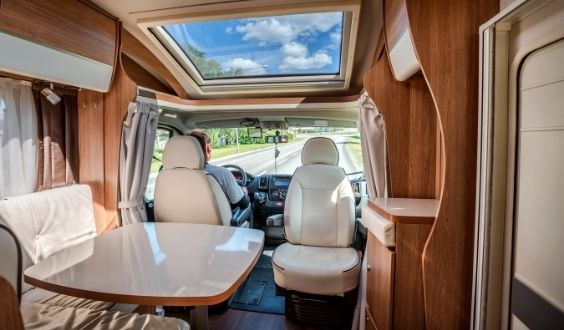 Essential Spring Cleaning RV Tips
Have an Outside Inspection Done
This will help identify any damage or maintenance needs so it can be addressed before summer hits.
If there are any problems discovered during this process, it's best to have them looked at and repaired as soon as possible because many repairs only take a few hours but others may require days of work.
Get Your RV Professionally Detailed
The thrills of an RV trip are doubled when your vehicle looks good too. If you're looking for something to do during the winter months that will pay off in spades once the warm weather hits, this is it!
A high-quality professional RV detailing service will take care of washing and waxing all exterior surfaces as well as cleaning the engine and undercarriage. They'll even steam clean your carpets!
Empty Out Storage Compartments
Cleaning out storage compartments like cabinets, drawers, closets, and other hidden areas can be overlooked but doing so now can prevent any unwanted surprises on your trip.
Most of these items can be placed in boxes or other storage containers and will be ready for use once the warmer weather arrives.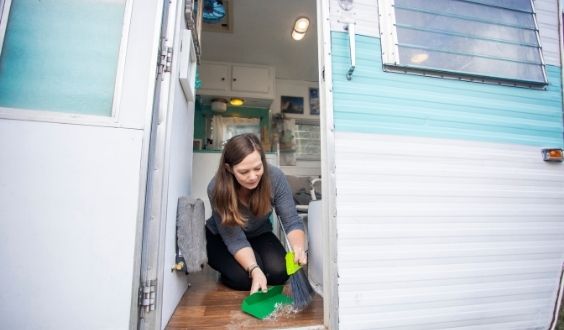 Clean Your Dash
Most RV drivers have a tendency to cover their vehicle's dash up with various knickknacks, which can become difficult to navigate through when in a hurry or on short notice.
Take some time to clean out these dashboard shelves and remove everything you no longer need or want. If any of these extras are small enough, store them under the seats or in other smaller compartments.
This will make it much easier to make important decisions when needed in an emergency situation!
Have an Interior Inspection Done
In addition to checking outside of your motorhome, there are several things that should be inspected inside as well before spring officially arrives.
This includes checking the plumbing, draining and refilling your water tank, washing the windows, polishing all of your appliances, and giving everything in view a good cleaning.
Change Out Your Air Filter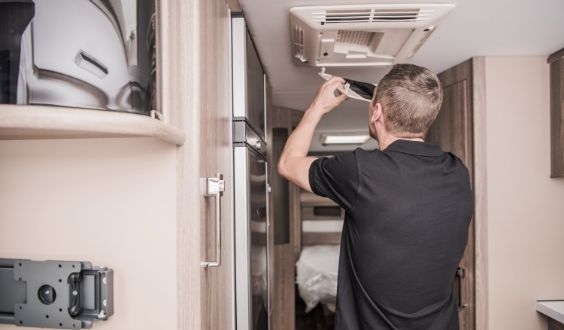 If you haven't done this during winter then now is a great time to do so. An RV's air conditioning system can be damaged if it isn't properly maintained or cared for on a regular basis.
Those who feel like this is a bit overboard might be surprised by how much dust accumulates inside an RV throughout winter!
This can lead to very dry skin and other uncomfortable conditions so checking and changing filters regularly is something everyone will want to do before warm weather hits.
Furthermore, a dirty air conditioner will not only cost more money to operate but also cause negative health effects like allergies and stuffy noses just to name a few.
Also make sure that everyone in the family is wearing shoes when entering an RV. Dirt tracked inside can contribute greatly to the dirt in the air. It can also damage rugs and other areas of carpeting.
Replace the RV's Batteries
As you're preparing for spring, make sure that your RV batteries are in good enough condition to last through the warmer months. If they aren't then you'll need to replace them as soon as possible.
To get the longest life out of each battery you should avoid leaving any lights on while not in use, and if at all possible only plug devices into your cigarette lighter when needed rather than leaving them turned on for long periods of time.
Use Spring to Keep the RV Fresh and Clean
Warmer weather is on the horizon. However, before you head out on the open road to soak up some sun and enjoy recreational activities, it's important to make sure your RV is ready for the season.
Spring cleaning tips can come in handy as well if you want to avoid that feeling of dread when opening up your camper or motorhome this summer.
If you own an RV, it's important to keep it clean. Spring is a great time of year for taking the necessary steps to spruce up your recreational vehicle and ensure that its ready for another summer on the road.
---