Things You Probably Don't Know About the RV Classes
Whether you are getting into RVs or just happen to walk into a conversation, you'll inevitably hear about the different types of RV classes.
For the experienced ones, they'll know a little bit about these different RV classes. In a general sense, the Class A ones are the big expensive ones, the Class B ones are the vehicle type RVs, the Class C ones are like the Class A's smaller brothers, and so on.
In this article, we'll spell out the various features that allow certain RV classes to be classified as such. We'll talk about the size, the price, the best models for each class, as well as many other things you probably don't know about the RV classes.
Class A RVs
First of all, let's start with the most common perception of what an RV is: the Class A RVs. Class A RVs are the big ones and are most often built on either vehicle, truck, or bus chassis. It usually comes up to 45 feet long. The smallest ones can be a little more than 20 feet long.
Depending on your choice, the engine may run on gas or diesel. Despite the choice though, you can be sure that this class of RV guzzles a lot of fuel. Fuel efficiency isn't the calling card of these RVs.
Instead, the defining feature of the Class A RVs is its massive size and the comfort that this size affords the people onboard. The space can have up to 8 people living comfortably.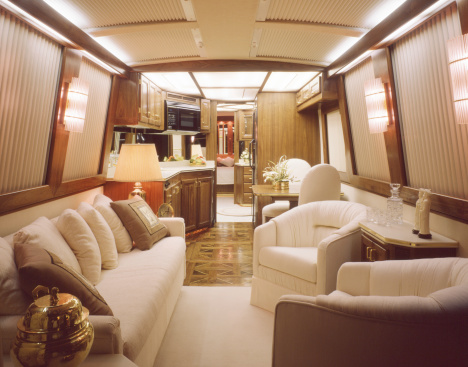 The space also gives way for all the amenities that a family might want. It can host king-sized beds, bathrooms with showers (as some RVs either don't have one or still need to be installed with one), a full kitchen set, a living room area with sofas and chairs, refrigerators, and even space for washing machines and dryers among other things.
This class really has all the space to perfectly simulate the living conditions of a real house. If you have the money for this class of RV, you'll quickly know, after days of living aboard with all your amenities, that it is well worth every penny.
These classes of RVs are best suited for staying put at one spot or living full time on the road.
Apart from the fuel costs, the one glaring problem ironically also comes from its large size. The big space that affords you all the luxurious amenities means that it is also very hard to control on the road.
You'll need to put in a lot of time practicing your Class A RV driving skills. You'll need to look out for sharp turns, inclines, and potholes. Moreover, you'll need to find the right parking spot to house your big RV, and parking is definitely something you'll want to master before hitting the road too.
Best Class A RVs
The Winnebago Horizon
One of the Best Class A RVs in the market right now is the Winnebago Horizon Class A Diesel Motorhome 42Q. Winnebago is a manufacturer that is synonymous with RVs. In fact, due to popular media, when people think about RVs, they think about Winnebago.
The Horizon has many features that puts it at the top of the list. From top to bottom, it just oozes comfort and luxury. Let's start with the seats.
Both the driver's and passenger's seats can swivel around and be used to seat into the body of the motorhome. Apart from that, the seats themselves have great back support, armrests that have multiple positions, and even a footrest.
When it swivels, it faces a great lounge that includes a sofa, an electric fireplace, a great entertainment system, a lounge chair, and more.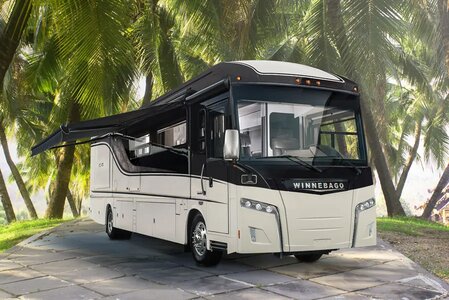 The spacious floor plan of the horizon means an inclusion of several great amenities as you move through the back. You'll find a shower, a bathroom, refrigerator, and oven. In the bedroom, a queen-sized bed awaits. Surrounding the bed are drawers, a location for the TV, a wardrobe, and storage area.
This will set you back by about $450,000. It may be pricey, but if you can afford it, the space, amenities, and luxury will be well worth it.
Newmar Dutch Star
Another great model is the Newmar Dutch Star 4081 Class A Luxury Diesel Motorhome. For starters, it is built on a couple of chassis with tag axles. The cruise control makes it a treat to drive.
The space afforded is massive, like all Class A RVs. The seats of the Dutch Star also swivel like the Horizon's. It also features two ventilation systems, with one for the bathroom and the other for the kitchen.
There are various floor plans to choose from. All it will depend on is your preference. There is even an optional hammock package you can get.
This Class A RV will set you back around $380,000+.
Class B RVs
Next up is the Class B RV. You may be thinking that after Class A, it should only get smaller as we go through the classes. In actuality, the Class B RV is the smallest of the motorhomes. Another name for Class B RVs is campervans or conversion vans.
As opposed to the Class A motorhomes, the chassis of Class B motorhomes are built on much smaller chassis. It can typically house as many as 4 people.
While it is much smaller than its big big brother, this by no way means that you are missing out on certain amenities. It simply means that you need to choose the right amenities for your needs.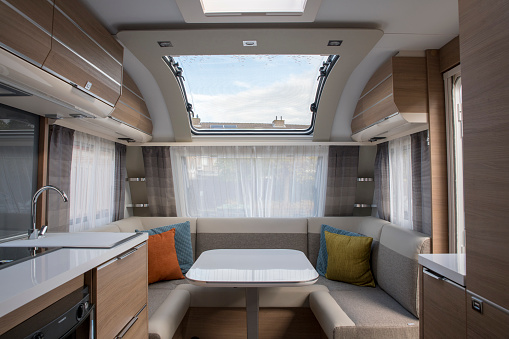 You can install many amenities in the Class B RV such as a kitchen, refrigerator, a self-contained toilet, and even a freshwater tank if the manufacturer offers it. The beds though will have to be foldable beds.
It depends on you what amenities you want to put in your Class B RV. You need to plan out your space wisely. The adage "need not want" comes into play for this class of RV.
In order to help you with your amenity choices, you should know that these types of RVs are best used for weekend getaways. Travelling is the goal with this class, as the size means that you can easily drive it to many destinations.
You also won't need that much practice with this RV, as it is almost similar to a normal vehicle. It will be easier to drive and park! In addition, it is also way more fuel efficient than the Class A RVs.
The size of Class B RVs goes from 17 to 19 feet long.
Best Class B RVs
Pleasure Way Tofino
If you are looking for a great Class B RV that doesn't cost that much, a great choice would be the Pleasure Way Tofino. This is one of the most affordable Class B RVs. Despite that, the inclusions make it feel like a steal.
For starters, it has a pop up area that makes more room in the body and grants a second sleeping space.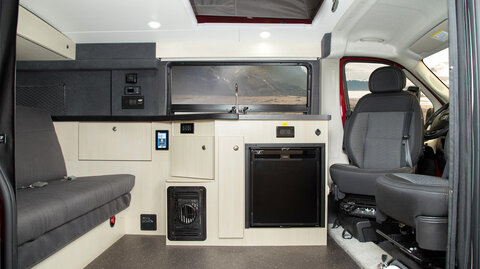 The two key items here are the stainless steel sink and the induction stove. Both of these things make you wonder why it costs the way it does.
One thing that should be said outright though is that the Tofino doesn't have any wet baths included. Thus, it is best used in camping grounds with showers.
The cost comes in as just shy of $70,000.
Coachmen Galleria
Another Class B RV to look at is the Coachmen Galleria. The diesel engine means that your travels will be affordable all the way, at least in terms of gas mileage.
While the sleeping space is limited, with comfortable space for only 2, it more than makes up for it with the space afforded to the kitchen and other areas. However, don't let the limited sleeping space fool you though. The little it has is draped in comfort and style.
Check out the Coachmen Galleria now, with prices ranging from $89,000+ to $145,000+.
Class C RVs
In terms of size, Class C RVs are the ones that come next in line after the Class A RVs. Thus, it is in the middle of Classes A and B in terms of size. This chassis can either be built on a truck's, a van cutaway, or a modified pickup. The engine for Class C RVs is gas powered all the way.
It is a bit smaller than the Class A RVs. The manufacturers who make the Class C RVs are quite creative with the way they manage their spaces.
For instance, the sleeping quarters of Class C RVs are in a cab located right above where the driver is. This makes it so people have more space in the body to walk around, as well as for other amenities and activities.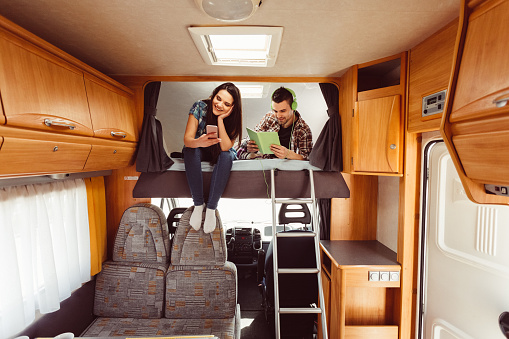 There may be some Class RVs that have sleeping areas in the back. Others also have a sort of pull out sleeping areas that can allow you to maximize the space inside more.
In terms of amenities, the Class C RVs can have the same ones as the Class A RVs, albeit in a smaller space. Air conditioning, kitchens, refrigerators, and self-contained toilets are just some amenities that you can choose from. While it can house most of what the Class A RVs have in terms of capability, you'll still need to select the right amenities for your needs.
The "right in the middle" size means that it won't be difficult to drive the Class C RVs. You can also get out and hit the road in a hurry if the need arises.
This class of RV can house from 1 to 8 people. It's size ranges from 20 to 31 feet.
Best Class C RVs
Coach House Platinum
The Coach House Platinum III is one of the Best Class C RVs, but also one of the most expensive ones. Its chassis is unique for its class, being built on a Ford Transit 3500 chassis. The engine's horsepower is 306, meaning that the Platinum III also boasts high performance on the road.
Within the singular fiberglass that makes up its body, a variety of amenities are there to make its occupants live a comfortable life. One of the best things is the heating tank that will ensure that nothing freezes over during the winter times.
Other amenities include a GPS and even a WiFi installation with a booster. This Class C RV is great for going out on the road and cozying up inside as well.
Coachmen Freelander
Another good choice would be the Coachmen Freelander. This Class C RV is the one best suited for taking your families on the road.
There are numerous floor plans that you can choose from for the Freelander. You can decide how to fill the 21 to 31 feet body of your RV. On top of that, if you and your family are environmentally conscious, then you'll be happy to know that the RV is constructed with green methods.
This RV is not only good for families. It is guaranteed that you'll also have extra space to invite more friends and family over.
The Freelander was truly built with the family in mind. As such, it includes many things that are geared to the families such as multiple USB charging areas, a couple of televisions (in the living room and in the bunks), and even a child safety tether seat.
Towable RVs
If you noticed, RV Classes A to C are those that people can actually drive. There is a whole different classification of RVs, and these are the RVs that are towed by other vehicles. There are many kinds of towable RVs.
The fifth wheel towable RV doesn't actually have five wheels. Rest assured it comes in the standard 4 wheels and won't be a problem with an extra wheel on the road.
The "fifth wheel" was actually named due to the plate that is used to clamp onto the tow vehicle looking like a wheel itself. The tow vehicle must be very specific for it to clamp on. In most cases, the best choice for a tow vehicle is a pickup truck.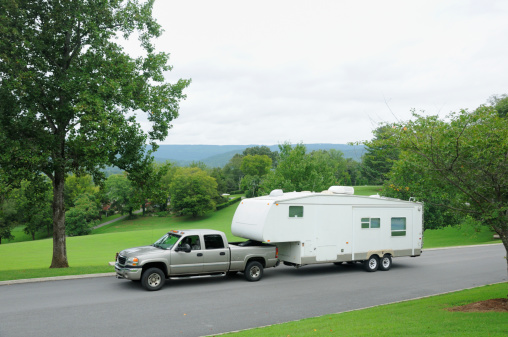 This type of towable RV is quite large. It typically ranges from 30 to 40+ feet. It can house up to 8 people.
Its large size means that it can fit many amenities such as a bedroom, a living room, a kitchen, and even a bathroom. Like the Class C RVs, it could even have a slide out bed space for saving on space. You'll also have the choice for two different types of lounge shapes.
The large size would also mean that it is the priciest of the towable trailers. These towable trailers are great for when you are staying at one specific spot.
Best Fifth Wheel Towable Trailers
JAYCO Eagle Series
If you'd like to check out some fifth wheel trailers, try out the JAYCO Eagle Series Fifth Wheel 25.5REOK. One of the best things about this model is that the floor plans have a lot of space allotted. The big space can house as many as 6 people.
The secret of the large space is with the slide out sleeping area. This is apart from the master bedroom with the queen-sized bed. This also allows for more room to be allotted for the living room.
The kitchen isn't all that spacious, but it houses a refrigerator, a microwave, and even a top stove with an oven.
The trailer itself is made of lightweight aluminum. Apart from that though, there are also certain parts that are made of fiberglass. This enhances the flexibility and stability of the trailer as well.
Palomino Puma
Another popular choice would be the 2019 Palomino Puma 255RKS Fifth Wheel. Similar to the Eagle Series, it is a lightweight fifth wheel towable trailer integrating the various amenities of a home.
The frame of this trailer is made of wood and aluminum. This is where it gets its lightweight feel. People may think this means that it can be towed by any pickup. However, for best results, a Ford F-150 should be fitted with the V6 eco boost engine to make things easier.
Amenities include a refrigerator, numerous cabinets at the top of the cabin, a large sofa, and an impressive entertainment center. The bathroom also includes a wardrobe closet, toilet, sink, and shower.
Folding Trailers
Another type of towable trailer is the folding trailer. As opposed to being made of metal, most of the time, the sides of a folding trailer are made of a softer material like canvas. This makes it very easy to – as the name suggests – fold up and tow behind an SUV since it is so light.
It is best to set expectations early. The folding trailer feels more like a camping tent that has wheels on it. Also known as a pop-up camper, when you find the destination to stay at, the folding trailer can be popped open to have more space.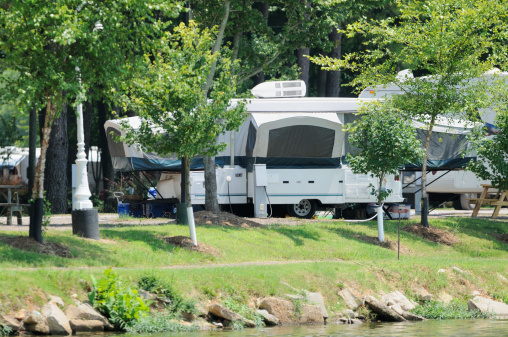 These usually have double beds, a simple kitchen, a sink, a dining room, and a small place to cook at. Several of the largest folding trailers can also come with their own bathroom amenities like showers and toilets.
Due to its material and size, this lightweight towable trailer makes it simple to bring around and even stow away for storage. The small size can be an advantage if you don't need much in terms of living space and amenities.
It is foldable, so if you are stowing it away after your trip, it can easily fit inside your garage and it won't get in the way.
Its size can go from 8 to 16 feet, and can even sleep 1 to 6 people.
Best Folding Trailers
Forest River Flagstaff Pop-up
For folding trailers, you may want to check out the Forest River Flagstaff Pop-up. The initial design of the Flagstaff may make people think of an actual house, as the roof is triangular.
If you have a partner and are okay with sleeping apart, then the Flagstaff is a good choice. The bedding is two twin mattresses instead of one big one.
Starting from the front, the Flagstaff starts with a spacious front storage area. After comes the dinette and the toilet. In the middle comes the sink and a micro cabinet, and the back houses the twin beds.
It also houses an exterior storage area that can keep a gas grill for when you want to cook a meal for you and your partner.
This one comes in at just shy of $17,000.
Starcraft Comet
You may also want to try out the Starcraft Comet folding trailer. This one is a pop-up camper that can be utilized for families. For this trailer, it houses two queen sized beds for you and your kids. These beds are on opposite sides of a living area or dinette.
Other amenities include air conditioning, WiFi and a booster, a microwave, a 2 burner stove, and more.
This travel trailer comes in a little less than $12,000.
Hybrid Travel Trailers
The final towable RV is the hybrid travel trailer. As the name suggests, this class of trailer is an amalgamation of the folding trailer and the fifth wheel towable trailer. Majority of the body is metal, but there are also pop out canvas areas that give way to bedding spaces.
The combination of materials gives you a stable feel, while also allowing the flexibility of living quarters so as to save on space. The pop out beds make it so that people can sleep on queen sized beds. Quite a treat.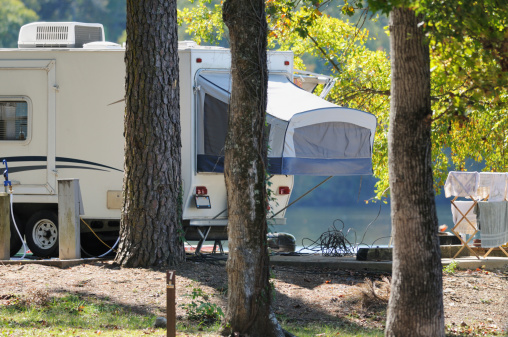 It also has access to most amenities that other RVs have, but you'd have to check with your manufacturers as to what is included with each model or unit.
One of the downsides of this type of towable is that it may take some time to set up the pop up extensions. In addition, since the pop up area is made up of something soft, it may not withstand the rain so well.
Despite this though, the hybrid travel trailers are a great type of RV to get. It is usually 16 to 30 feet in length, and this is without the pop up extensions. The added length means it can house at least 6 people.
Best Hybrid Travel Trailers
Kodiak Hybrid
The Kodiak Hybrid Travel Trailer will give you lots for less. For starters, it can house up to a staggering 10 people! It may be rare that there are 10 people in a family. This just means that a standard family size would fit comfortably.
This specific hybrid travel trailer was created with the iN Command operating system of Dutchmen. This allows for the whole trailer to be controlled from one remote location. Things that can be controlled include indoor and outdoor lighting, generator settings, and even the awnings.
The amenities are complete, so much so that it may feel like living in an apartment.
Jayco Jay Feather
Another hybrid travel trailer to look at is Jayco's Jay Feather 7. As far as hybrid travel trailers go, Jayco is by far the industry leader.
The Jay Feather 7 is designed smoothly, with a sleek look that will make heads turn. Make no mistake, this hybrid trailer is a luxury item to its core. This is made evident by the diamond plating included.
Before we get to the insides, the exterior also has a lot of space for storage. You can even bring around bicycles by locking it in the back.
The inside has a great sized kitchen that makes cooking and eating comfortable. It is certainly something that most RVs do not have.
Apart from that, the LED lighting lights up all the areas fairly well. It has an apartment feel as well. People won't believe that these living quarters are on wheels. The fact that the insides are made of wood remove you from the fact that you are living inside an RV.
Choose your RV Class Now
We hope that we have shed some light on the various RV classes and that you've picked up some useful information along the way.
Your choice of RV Class will largely depend, not only on your budget, but more importantly on your needs on the road.
Adventure and the great outdoors awaits. All it will take now is for you to choose the right RV Class and model for you. Drive safe!
---