A recreational vehicle or RV is more than something you drive. It's a lifestyle. It is both your means of transportation and your humble abode. 
There are many reasons to get an RV. For one, it allows for more flexible plans. It gives you the option to stay in when you want to, or head out to anywhere if and when you feel like it. 
For travelling, it is a huge money saver. You'll no longer need to book expensive hotels and eat at restaurants. You can do all of that in your RV. 
You also have the benefits of privacy, comfort, being able to bring your pets around, and more importantly, being able to stay close to your family as you explore new places. 
Did that get you excited to get an RV? We hope so. The next question is what type of RV would be the best one to get for travelling with your family? With so many out there, it may be hard to decide.
That's where we come in. Let's explore the best types of RVs that you can get for family travel. 
Before we get into discussing specific models, it may be important to familiarize yourself with some of the different types of RVs. 
Class A Motorhomes - As the name suggests, these types of motorhomes are the top of the line. "Luxury, style, and comfort" are what define this type best. They have all the amenities a family could need: showers, dishwashers, a sizable area for the family to relax in, and even a full kitchen. 

Class B Motorhomes - This type of RV is much like the higher class one. You'll have the same comfort and style, but in a smaller packaging.

Class C Motorhomes - This class is even smaller than the other two. It is the most frequently rented RV as it is perfect for going out on a weekend or week-long journey. 

Travel Trailers - These are very light but sturdy constructs. The difference from this type (and the others below) with Classes A to C is that you don't get to drive this one. These types of trailers are usually towed behind a SUV.

Truck Camper - A truck camper is the best choice for when you are going to places that motorhomes and trailers cannot go. The truck camper is placed in the bed of a pickup truck. It is very affordable and offers various amenities for your travels. 
With that out of the way, let's get to the RVs!
The Dutchmen Aspen Trail 26BH
The Dutchmen Aspen Trail 26BH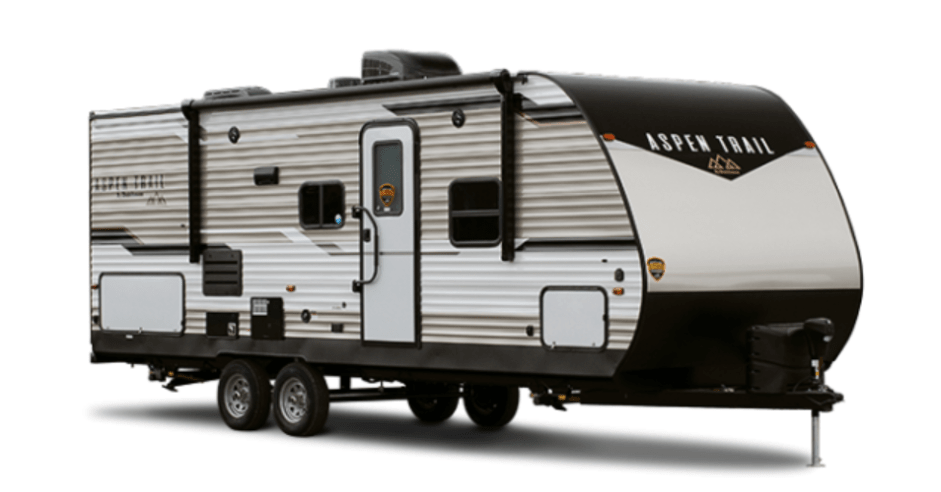 First on the list is the Dutchmen Aspen Trail 26BH. This trailer has everything you'll need for travelling with your family. 
The highlight of the trailer is its enormous space in the back. In this big space, kids can play there. It can also serve as a sleeping quarter as well. For the parents, there is a separate sleeping space provided for them. 
There is also a living room area that has enough room for a large TV to be placed there. It even has a wardrobe and dresser included.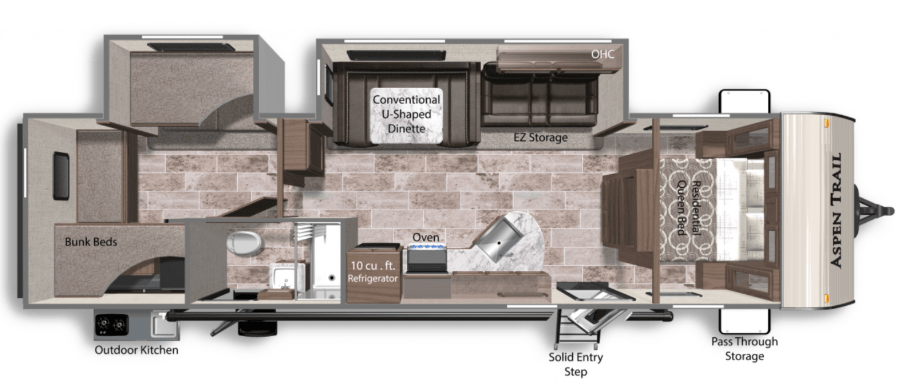 (Sample floor plan of the Aspen Trail)
A standard feature of the Aspen Trail is a lined TV hookup. An antenna booster is also available, as well as speakers on the outside.
The only thing you'll need to worry about is sharing the bathroom with all your family members. 
If you are thinking about this trailer, you'll need to know that this size of trailer cannot be used in national parks or camping areas.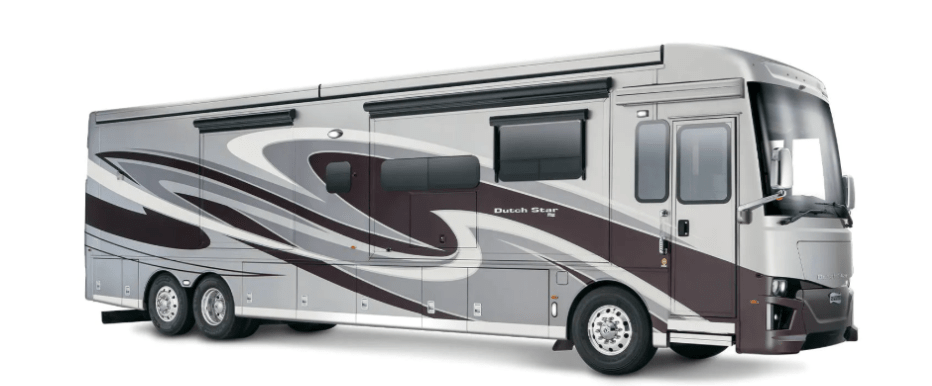 One look at The Newmar Dutch Star, and it just screams elegance and comfort. It is no surprise that it is one of the most bought diesel coaches these days. 
When you head in, you'll feel like you are at home. It is mostly due to the manufacturer's attention to detail. You'll have hardwood cabinets with soft-closing drawers. The surfaces and countertops are all polished.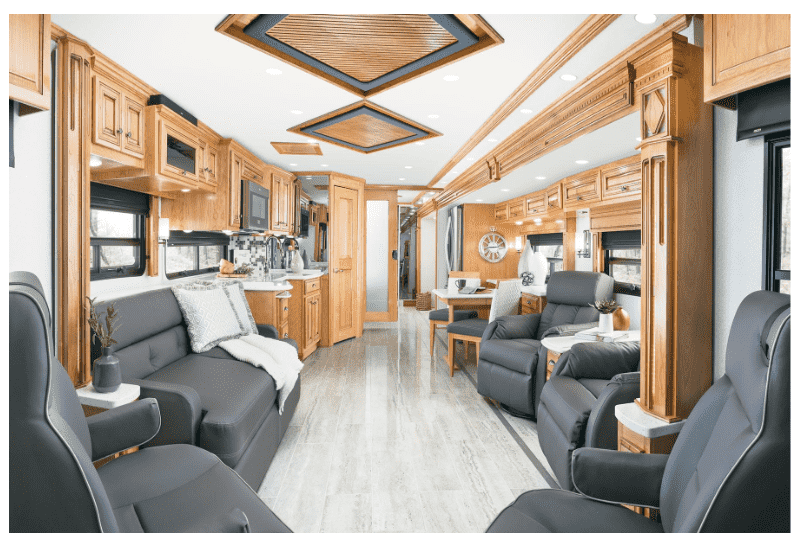 (A sneak peek at the motorhome's interior)
This motorhome has space for two beds, a sofa, ottomans, a TV, a shower, a laundry area, and so much more. 

(Sample floor plan of the Newmar Dutch Star)
If you are thinking of buying The Newmar Dutch Star, you can actually build your own. There are some standard inclusions, but they also have a range of items to choose from that will no doubt make your family travelling very enjoyable.
Taxa Outdoors Cricket Camper
Taxa Outdoors Cricket Camper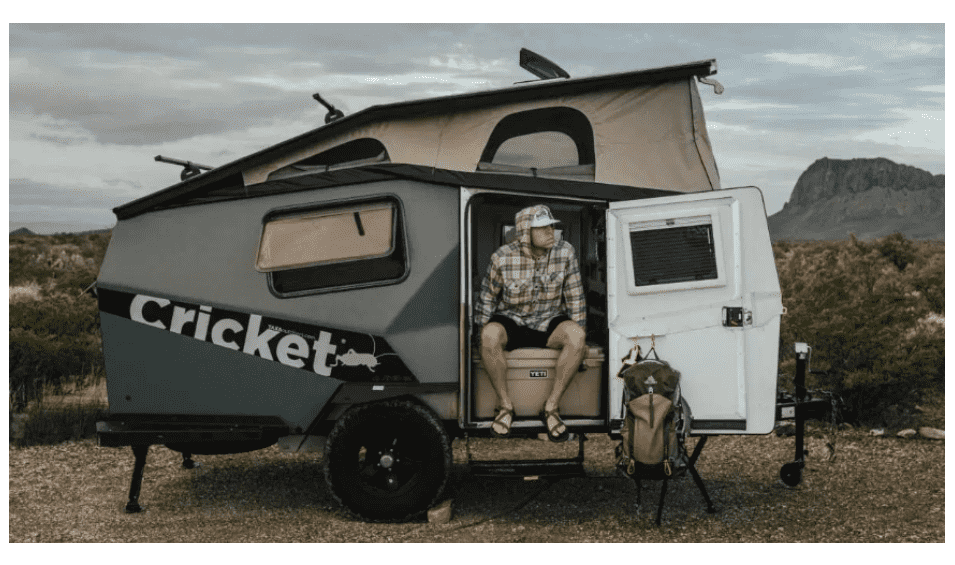 Last on the list, we have the Taxa Outdoors Cricket Camper. This specific camper is great for the family that enjoys the great outdoors. 
There isn't much in The Cricket when you compare it with the first two RVs in the list. As such, it doesn't come with any electronics. The only ones that you'll have are the ones that you bring along. The Cricket then acts as the battery for all your electronics as you go camping.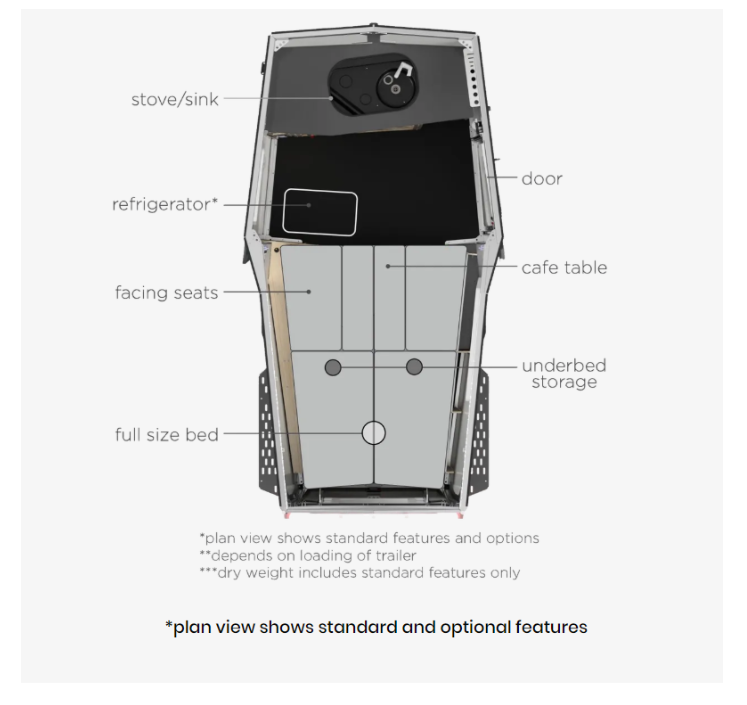 (Sample floor plan of the Taxa Outdoors Cricket Camper)
The Cricket shines best off the beaten path. When you want to adventure out of the grid, this trailer is a must have. 
It is small and compact. This means that it can be stored in garages easily. It can also be pulled by smaller vehicles. 
We hope the RVs in this list gave you an idea of what you'd like to get. The important thing to remember is that the type of RV you want to get will largely depend on what you require and where you are going. 
Wherever the adventure takes you, it's better with your family with you.