Don't let the summer heat ruin your RV life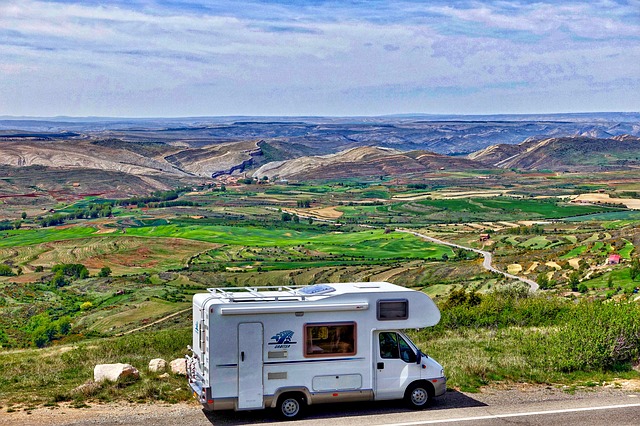 ---
Owning and using an RV gives you the opportunity to explore the great outdoors. The ideal time for this is summertime. Less ideal though is the hot temperatures that accompany summer.
Fortunately, RV Family Life has got you covered with the list of the best RV Air Conditioners.
Apart from keeping cool inside and staving off the summer heat, having a great air conditioner allows you to maximize the time you travel and enjoy inside the RV. It also allows for a great night's sleep.
Furthermore, a good air conditioning unit can help clean out the air inside the RV. This is great for improving the health of people onboard.
In this article, we'll not only cover the best RV air conditioner models, but also go over several important pieces of information that will factor into purchasing the best unit for your RV.
Let's check several of the best air conditioners that you can purchase for your RVs.
Types of RV Air Conditioners
Before we get into the units themselves, it is important to know that there are several different types of RV air conditioners.
Rooftop Air Conditioner
The first type is the rooftop air conditioner. This is by far the most popular type as its placing helps to save space within the RV. Apart from that, the air from outside can help easily cool the unit on the roof.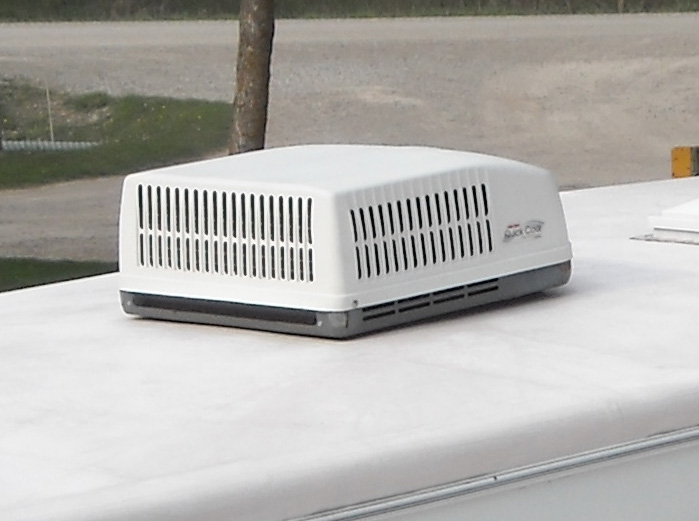 ---
Rooftop air conditioners have two types. These are ducted and non-ducted that are for large RVs and smaller RVs respectively.
Portable Air Conditioner
Next are the portable air conditioners. As the name suggests, these types don't require any installation. They can just be brought around and moved around as the need dictates.
As opposed to the rooftop air conditioner, this type takes a bit of space inside the RV. There is also a need to handle the unit with extra care. While these units are energy efficient, they would also need a hose to ensure that it does not leak.
Portable air conditioners are usually best when in the dry heat and not humid environments.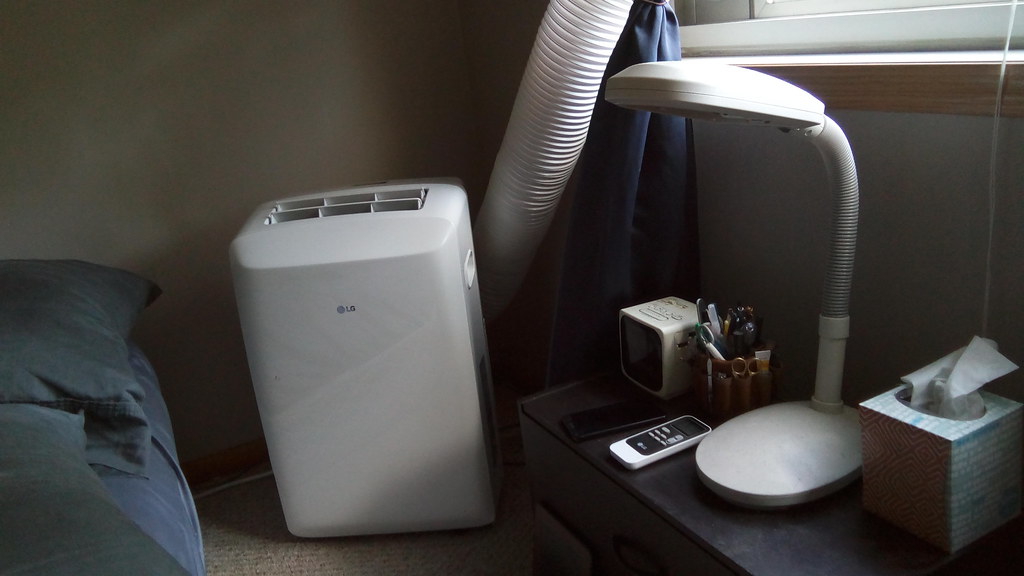 Window Air Conditioner
Finally comes the window air conditioners. These units are the closest ones to those placed in homes. They are installed in windows and as such save a bit on space too. The installation of these types is less difficult than the others.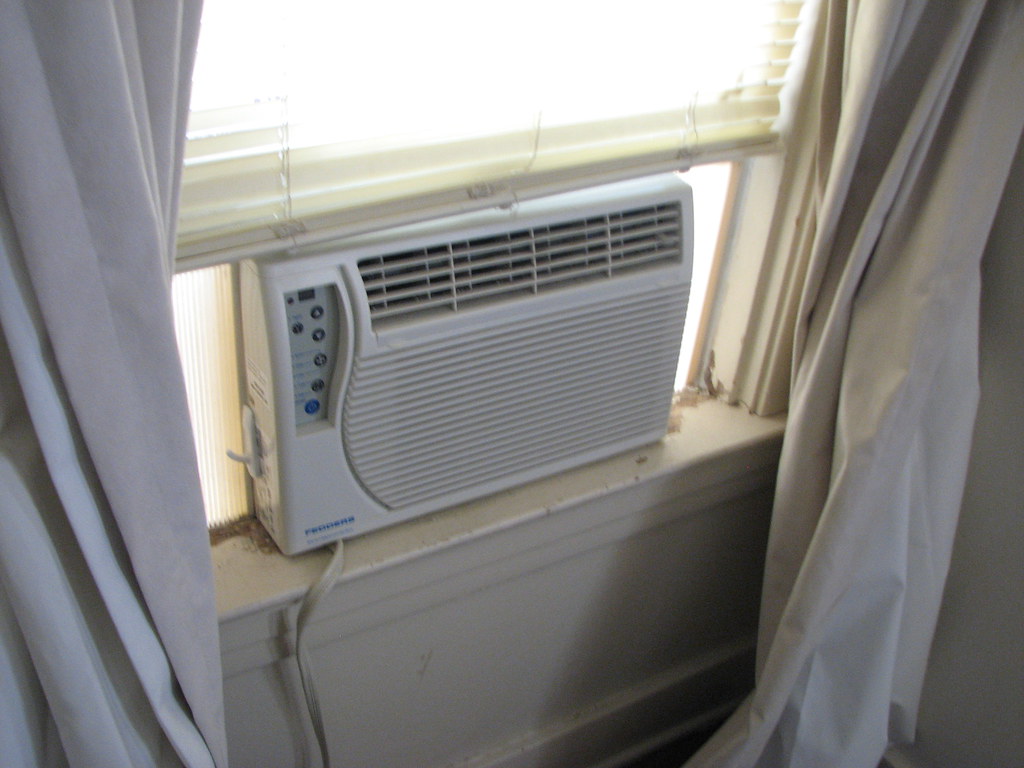 AC Considerations
Before we go on to the actual units, let's just go over a few things that need to be taken into consideration.
The first is called British Thermal Unit or BTU. This is basically a unit for heat or power if you will. This specification is important in choosing the right air conditioning unit for your RV.
A standard air conditioner has 13,500 BTU power. This power is usually enough to cool a large RV. However, when travelling in more humid environments, you'll probably need an air conditioner with a higher BTU rating.
Apart from the BTU, noise is also an important factor to consider when looking for air conditioning units.
Without further ado, let's get on to the actual units.
Atwood 15026 Non-Ducted A/C Unit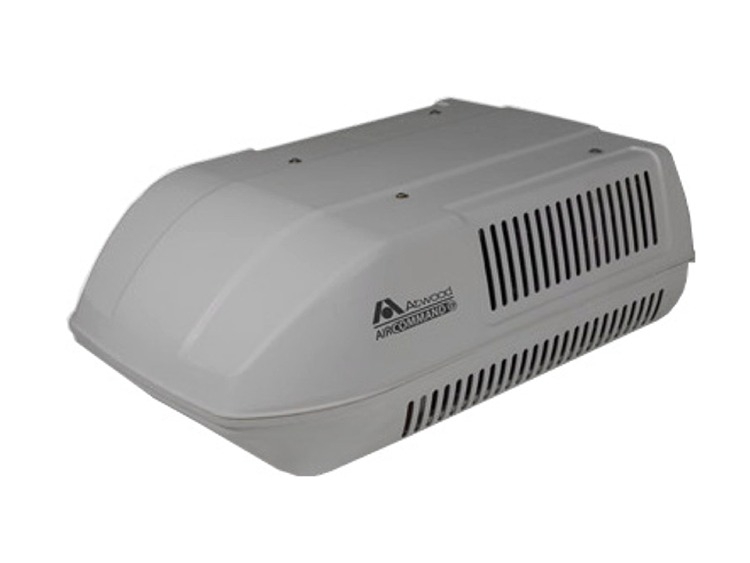 The first unit we'll be covering is the Atwood 15026 Non-Ducted A/C Unit. If you haven't experienced a non-ducted unit before, this is one of the best units out there.
The BTU rating for this unit is 15,000. This is a bit higher than the standard. It also comes installed with two fan motors. These motors allow it to be one of the quietest units on the market.
It also comes with a heat pump. During winter, the heat pump can get you through the worst of the cold night.
One of it's best features though is the ease of installation. Consumers state that it is one of the easiest RV air conditioners to install. If you aren't handy with the tools or savvy with installation, this is a big plus.
When you purchase this unit, it also comes with a remote control for convenience.
The biggest downside right now is that it is quite pricey. However, if you have the cash to spare, this is a really great air conditioning unit for RVs.
Dometic Brisk II Rooftop Air Conditioner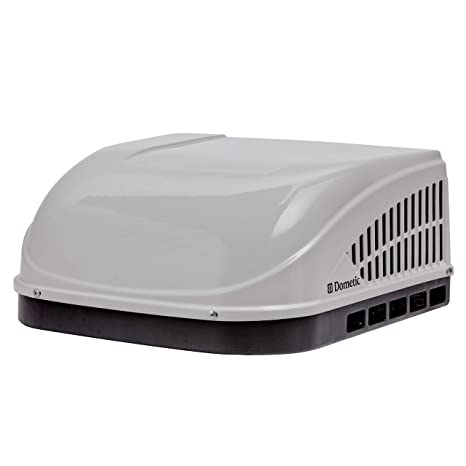 Next up we have the Dometic Brisk II AC Unit. Dometic is one of the longest operating RV air conditioner manufacturers.
For this unit, you have the choice of two BTU ratings. The first is the standard 13,500, and the other is the stronger 15,000. This choice is wholly dependent on where you'll be driving and what the weather would be like in those areas.
The other really great thing about this unit is its versatility. It can be used as either a ducted or non-ducted unit. Thus, no matter what RV you have, you know that it can be used.
It boasts of easy installation and is very durable. However, people have reported issues of its sustainability in the long term.
Dometic also gives out a two year warranty when you buy this unit. This is a great time frame for a warranty and any damages within the period can be easily rectified.
Now this unit from Dometic and the previous one from Atwood have actually combined forces. Atwood is now sold under the Dometic brand.
You can check out more RV items at the Dometic website
ASA Electronics ACM135 Advent Air 13,500 BTU Roof Top AC

---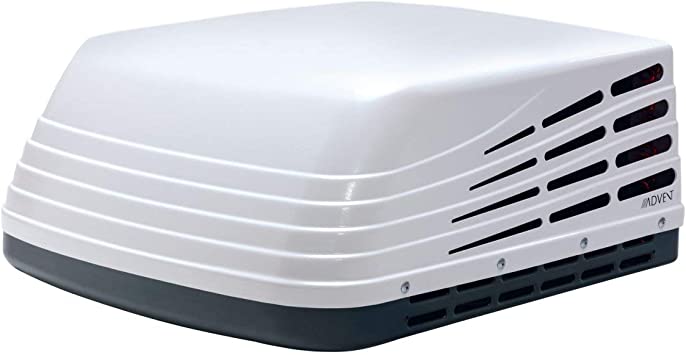 ---
The ASA Electronics Advent Air unit has several noteworthy features that allow it to stand out from the pack.
First and foremost, it has a plug-in heat strip. This is a machine that can be used with the unit. Plugging it in helps to easily remove the chill of the morning. This is vital if the season calls for it or if you are in a place that has really cold mornings.
This unit also features a total of three different fan features. This is for people who are very particular about controlling the temperature.
It runs at a standard 13,500 BTU and is very lightweight. The lightweight nature allows for easy installation on the roof of the RV.
One of the gripes of consumers though is that the ASA Electronics brand has sub-par customer service.
If you are interested in other ASA Electronics products, check it out here.
Honeywell MN10CESWW 10000 BTU Portable
---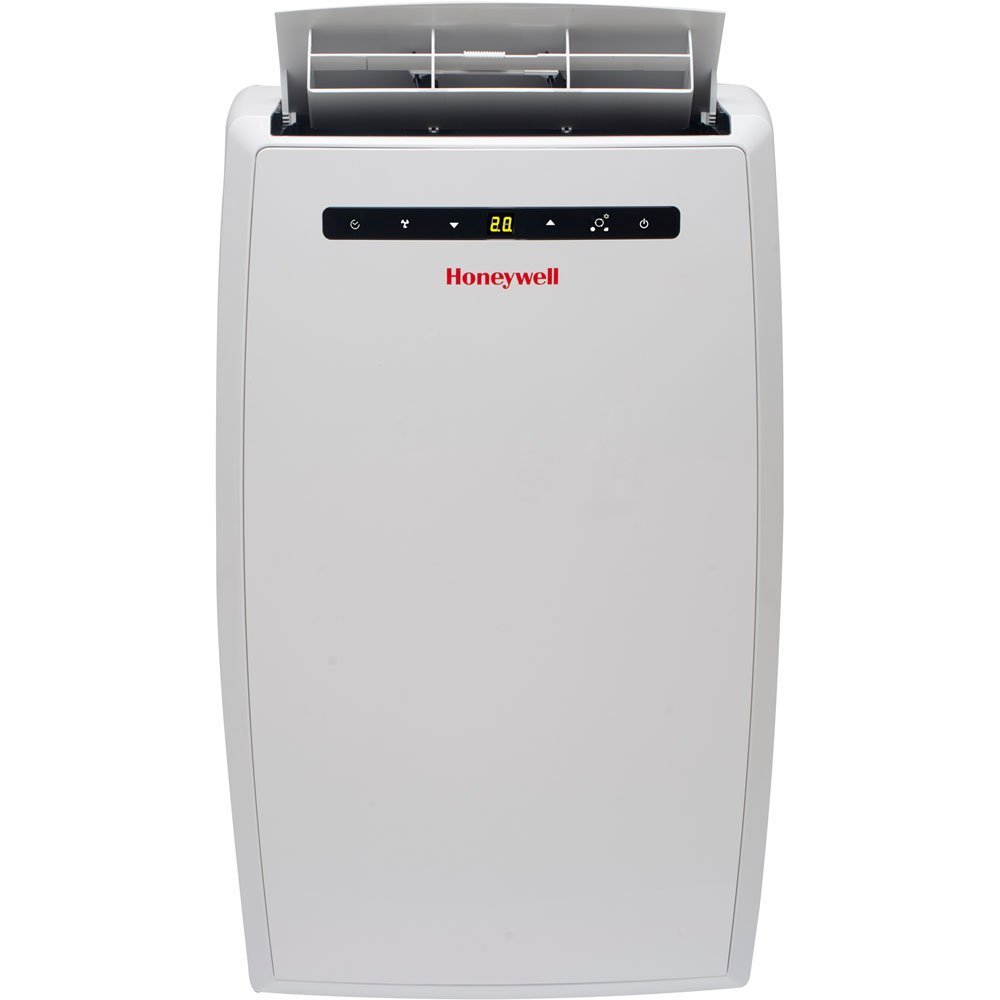 ---
Right off the bat, this portable Honeywell unit is a great unit for it's value. It boasts a very easy set up and installation process. So simple in fact that all you need is to place it in a corner of your RV, plug it in, and turn it on.
It is very portable so you can easily move it around to any part of your RV.
The fact that it's BTU rating is 10,000 (much lower than the standard 13,500 rating) means that it is good to cool medium-sized RVs.
Another great feature of this unit is it's durability. The fact that it is safe and cozy inside your RV rather than outside under the harsh UV rays means that it will service you and your family for a long time.
The downsides of this portable unit is that it takes time for the cool air to spread throughout the RV. Like all portable units, it also has a hose that is required for leakages. The hose for this unit is quite large and bulky.
It is also located at the backside of the unit. This means that you can't really put the unit with it's back right on the wall.
Browse through Honeywell items at their website.
Coleman Mach 15
---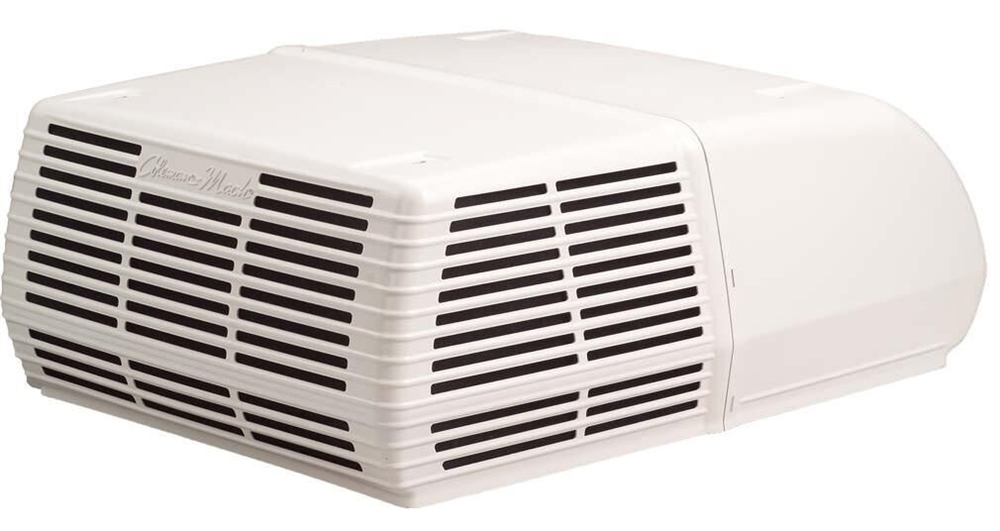 ---
Finally, we come to the Coleman Mach 15. It is a rooftop air conditioning unit that is considered one of the strongest roof units in the market today. With a BTU rating of 15,000, it cools down medium to large sized RV areas quite quickly.
Its strength will stand up in even the hottest conditions. No matter where you go, if you have the Coleman Mach 15, you'll be in good and cool hands.
Apart from its own strength, it has an additional optional heater that generates an extra 5,600 BTU of heat. This allows you to switch up what units you are using. The shared load will allow for both units to stand up for the long term.
This unit can be used as either a ducted or non-ducted unit. If it is ducted, you can install it in a standard 14 x 14 vent. If you go the non-ducted route, you'll need a Coleman ceiling assembly kit. This kit is very affordable and available on Amazon.
Tips and Tricks
We hope that this guide has helped you in choosing the right RV air conditioner.
Before we part, allow us to share some tips and tricks.
Once you've chosen the right RV air conditioner, remember to change out and clean the filters on a regular basis. If you don't maintain the unit this way, they can get clogged and the airflow will be significantly reduced.
When cleaning out the compressor, use a foaming cleanser. Afterwards, use a vacuum hose. The hose can help pull loose any debris or dirt.
Finally, if you are using a ducted air conditioning unit, these still require some maintenance. Get a vacuum hose and use it to clean out the air vents.
We hope you got an idea of your ideal RV air conditioning unit in this list. Start making your days a little bit cooler and tell us all about it here.