Top Tips in Boosting Your RV's Kitchen Amenities
---
Arguably one of the most important amenities that you can have in your RV is your kitchen. Think about it this way; if gasoline is what you need to keep your RV running, then food is the gasoline that keeps you going.
Having a kitchen means that you won't need to worry about where the food will come from. Some RV owners will just huff it on the road and rely upon the stores and restaurants that they pass along the way.
The problem is though that if you find yourself in a place where civilization is far away, you may be going hungry for a long time.
Nothing really beats having your own food and preparing it yourself. For starters, it is much lighter on the pocket to cook your own food than always buying from stores. You will also have the luxury of preparing it the way you want. You can opt to cook healthy foods or comfort foods. You have the control.
Many RVs have built-in kitchens. However, RV Family Life has several top tips that you can use to boost your RV's kitchen amenities These tips will help you maximize your kitchen and ensure that you have everything you'll need for your trips on the road.
Boost your RV's Kitchen Amenities
The Learning Curve
Anyone who has lived in an RV knows that cooking with the RV's kitchen is much different than cooking at home.
For one thing, most of the kitchen appliances you have in your RV will always be much smaller than what you are used to in the comfort of your home.
A simple example is the kitchen counter top. With such limited space, you'll have to quickly get used to working on a smaller counter. Another is that most RV ovens are convection type rather than a normal one.
The sooner you get comfortable with these differences, the better.
The biggest tip here is that before you head out on your trip, take some time to familiarize yourself with all the kitchen amenities that you have. Try to whip a few meals on your RV before you travel. This way, you'll get used to it and it can save you a lot of time and headaches on the road.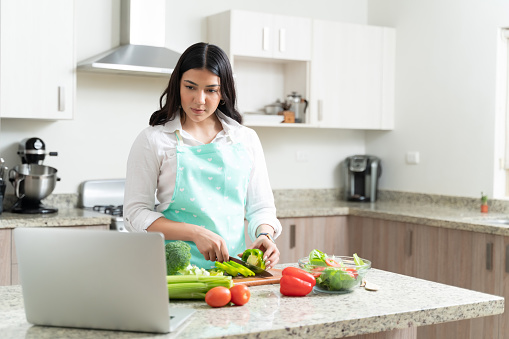 Apart from that, another tip would be to prepare only simple recipes that don't have complicated procedures or many ingredients to work with. The simpler the better.
This isn't to say though that your menu is now limited while cooking on an RV. If there is a complicated recipe you want to take on the road, just practice it beforehand and you'll be fine.
Finally, we urge you to check out your kitchen amenities before any travelling takes place. Ensure that you have everything that you may need. Some RV owners just hit the road without checking, and this could cause some problems.
There may be some appliances and equipment that you'll need but overlook.
People often don't know about this RV kitchen learning curve. However, recognizing it is the first step towards a smooth RV cooking experience, and an even smoother journey.
Space and Storage
As said above, an RV kitchen is one that offers limited space. There are solutions around this though.
As a space saver, look no further than the walls of your RV. You can easily set up the walls of your RV to hold certain things for the kitchen. For instance, you can install a safe knife holder on the wall. You can set up hooks to hang up a spice rack. Perhaps even a basket to place multiple kitchen odds and ends.
Another tip we have is with your refrigerator. There are many refrigerator magnets out there that can also double as item holders. This is a great way to save more space on your RV kitchen.
Other ideas include under the table hammocks that you can use to store fruit and racks that you can line in certain areas for meats.
Finally, always keep your eye open for collapsible items. These greatly save on space and allow you to bring many more things on your RV. These include collapsible measuring cups, bowls, dish drainers, and even colanders.
Must Have Equipment
The next tip we have comes in the form of two must have pieces of equipment for your RV kitchen.
The first equipment is a water filter. No matter the class of RV and where you go, you will always – and we mean always – need clean water.
There are many great water purifiers in the market right now. We'd recommend the Berkey water purifier. Through gravity filters, the water is cleansed of any viruses, bacteria, chlorine, and so much more.
The result is not only clean water, but also delicious water. There is a noticeable difference in the taste of the purified water.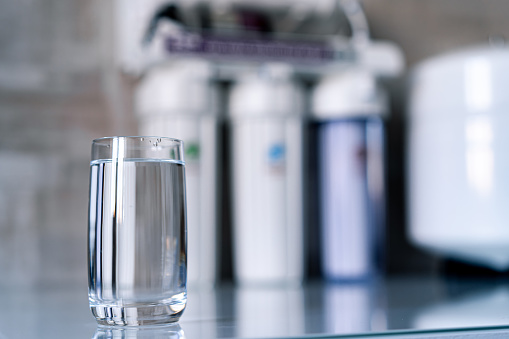 This piece of equipment is very dependable. Whether you are camping, staying in the RV, or going out for an adventure, it will always come in handy and work since it doesn't require any electricity to operate. Step up to any lake and stream and purify some water for your drinking pleasure.
Finally, we recommend it as it saves a lot of money. You don't need to keep buying water anymore. And with a simple setup process that lasts just about 10 minutes, you'll be using it in no time.
The other piece of equipment that we'd recommend is an Instant Pot. It is a multi-cooker that is designed to cook and prepare multiple things all in one appliance.
This is perfect for an RV as it does not take up too much space. For all the things that you can prepare using it, it is definitely a big help when cooking your meals. You can use it to cook meat, rice, and even hard boil some eggs. You can even cook Instant Pot Spaghetti. It is a useful multipurpose tool for your RV kitchen.
Cooking Comfortably in your RV Kitchen
These are only a few tips to help boost your RV's kitchen amenities. These tips will definitely come in handy as you head out and travel the world in your RV.
There are many more tips out there that you'll need to discover. Pay attention to your RV kitchen appliances as well. These operate mostly like they do when at your house.
These include things like keeping the refrigerator level to ensure it operates smoothly. One other thing to take note of is the stove tops. The stoves at a house and at an RV are the same. However, RV stoves usually have lesser burners. This usually just takes some recognition and planning from the cook.
Now go out there and whip up something delicious that you and your family can enjoy as you go on life's adventure.
---