Buying an RV: Everything That You Need to Know
Life on the road, in an RV, is a rewarding and amazing experience. There are many people who take on the call to adventure in an RV. In a previous article, we spoke about how a person would go about renting an RV, what they need to pay attention to and consider.
We earlier recommended the renting of an RV first because while the proposition may sound good, there are many things that need to be done while living on the road. Renting gives you a sense of what you'll come to expect and what you need to learn and prepare for.
If you absolutely love the RV life and want to commit to it, you may be thinking about purchasing an RV. This is no small feat. You may have liked your renting experience and taken care of everything, but a purchase is much different.
It is actually the second biggest investment you'll be making right before a house.
We're here to help you out by talking about everything you need to know when buying an RV.
Factors to Consider When Buying an RV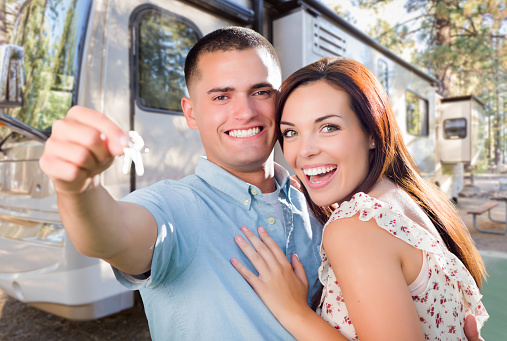 Before you buy an RV, you should first take the time to think about several important factors.
Usage
We'll start with arguably the most important question when purchasing an RV. How are you going to use it? The answer to this question will help narrow down what you'll want to get.
What are you using it for?
First, you have to ask what your RV will inevitably be used for? If you think you'll be using the RV mostly for trips during the weekend, your choice will vary greatly if you'll be using it for national parks let's say.
Find one that matches what you'll be using it for and it will save you a lot of time and hassle.
Who is coming along for the ride?
You'll also need to consider who will be joining you on your trips. Will the RV just be for you? Perhaps one friend is coming along. Or even the whole family. If your RV doesn't have the right space for the people who are coming with you, you're going to have a bad and cramped time.
Which features will you be adding?
Next up are the features. Go back to your answer to the first question. Think about what the RV is for. From there, you'll be able to identify the features that you'll be needing for when you use your RV.
RV manufacturers have done a splendid job on adding a variety of amenities and features for you. However, if the budget is tight, you'll need to pick and choose. Will you want to be taking showers? How about cooking in your own kitchen?
In addition to those, will it be a full bathroom facility? Will your kitchen have a built-in oven and stove?
If you are having trouble parting with certain amenities even with the budget being tight, you don't have to worry. You can sacrifice some amenities and get them in the future.
Perhaps you can find some alternatives to the full-blown features. For instance, instead of a full kitchen, you may opt to get an outdoor grill instead.
Prepare for hot and cold climates
Finally, with usage plans comes times, seasons, and destinations. Will you be using your RV full time? Or will you just be using it in certain parts of the year? Will you be going to places with hotter or colder climates? The reason why this is important is because you'll want to prepare for these extreme temperatures.
In the summer or in hotter destinations, it may be a good idea to have a good air conditioning system installed in your RV. It tends to get quite hot when you are on the road in summer, and comfort will go a long way in making you happy during your travels.
In the same way, the winter time is unforgiving as well. If you are using your RV during this period, ensure that a good heating system is installed too.
Type of RV
With your usage plan downpat, you'll next need to decide what type of RV you'll be purchasing. This decision factors in your usage decisions, as well as the cost of the RV that you will be buying.
There are motorhomes and towables. Motorhomes are those that a person can drive themselves. A towable is something that is hitched to another vehicle.
In the motorhomes area, there are several different classes, with Class A being the biggest and most luxurious and going down the line all the way until Class C.
For motorhomes, you'll need to consider many things. Of course there is gas, the actual ability to drive a larger vehicle, maintenance, the various ins and outs of your RV, and more.
For towables, you'll need to invest – if you don't have already – into a separate vehicle that can tow your towable RV. However, driving with a towable, well, in tow, is a different skill set altogether. Both require significant practice until you are comfortable doing so.
If you want to slowly adapt to the RV life without much cost and problem, a towable may be for you. However, after all the considerations, a motorhome is a comfort in and of itself. It is a big commitment, but if you commit fully, it feels good to have everything you need with you in one vehicle.
If it is prices we are talking about, manufacturers have laid out several floor plans that will allow you to both ensure that the space is enough for your usage and that it is affordable for you.
How and Where to Buy an RV?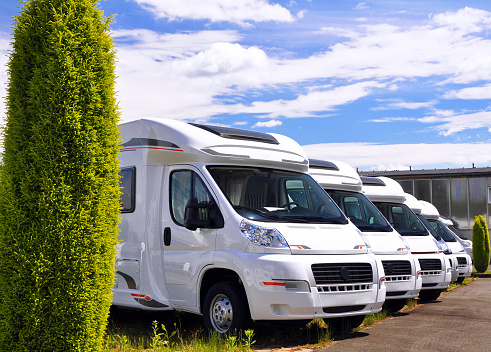 Ready to purchase one? We're excited for you. Now it is just a matter of looking where to purchase one.
There are a variety of websites that you can use online. For pre-owned RVs, you can head to certain websites like RV Trader and RV Registry. You can also turn to social media. Facebook has a good number of groups that have members who want to sell RVs.
For new RVs, this one is a bit tricky. It is all dependent on the state you are in. The best thing you can do is search for the best RV dealer in your area.
The question now is whether you should buy a brand new or used RV. Both types have their uses.
If you are new to the RV life, a used RV would be ideal. This would make the purchase more cost-efficient for you. If you can, we'd suggest you purchase an RV from a dealer. However, whether you buy from a dealer or a private owner, the RV may still yield some unwanted and unforeseen problems.
A new RV is a massive investment. Only do so if you are fully committed to the RV life and you are ready for the significant lifestyle change and all the associated costs. New RVs are covered by the manufacturer's warranty, which is a great plus for owners.
Life on the Road Awaits
We hope that everything we have discussed so far has helped you with your upcoming RV purchase. It is impossible to cover all the relevant items though.
But don't worry! If you are still on the fence about buying an RV, we invite you to read the other articles we have prepared. We are sure the information there may be relevant to you. It may give you an idea of what to expect, and may even factor into your decision to buy an RV.
Life on the road awaits! Stay safe on the road and enjoy the RV.
---