When heading out on an RV trip, there are many things that need to be taken into consideration. These things include the equipment and items you need to bring, your route, and your destination. Another important thing to plan out though is where you will be camping.
There are a ton of options out there for you to choose from. Essentially, there are paid parks that will cost a lot but have all the amenities and communities that you, your family, and your RV will need.
The problem with these though is that they often get booked up really fast. If you don't plan and book in advance, chances are you won't get to stay there. While the practice won't necessarily cost that much, the days will rack up fast. And with each day, the fees accumulate.
The other option is the free camping locations. This process is called boondocking. It is otherwise known as dry camping or dispersed camping. Simplified, any camping done outside established parks is boondocking.
Thus, you trade away the costs for a free place to park and camp in your RV. However, the amenities and development of the campground are also lost to you.
Despite that, boondocking is a great way to park your RV and sleep until the next day. It isn't as simple as parking anywhere though. There are distinct places where you can boondock. We here at RV Family Life will clue you in on how to find the best free RV camping locations.
Resources for Free RV Campsites
There are many resources out there that can point you towards a free RV campsite location.
Boondockers Welcome
The first resource we'll talk about is called Boondockers Welcome. Think of this as the Airbnb of boondocking!
Basically, Boondockers Welcome is a membership service that allows you to park your RV at the hosted private ground of other members.
Prior to signing up, you'll be able to see the list of locations you can stay at. This will allow you to plan out your trip beforehand. Once you have it all planned, all you need to do is sign up.
There are two types of memberships with Boondockers Welcome. The first is the guest membership. This is for RV owners who want to stay at the properties of other RV owners for a duration of 1 to 3 days.
The second type is the host membership. With this type, you will allow other RV owners to boondock in a property that you own. You don't have to own a large plot of land. You don't even have to have the space available for the whole year. An overnight space for a Class B motorhome is enough.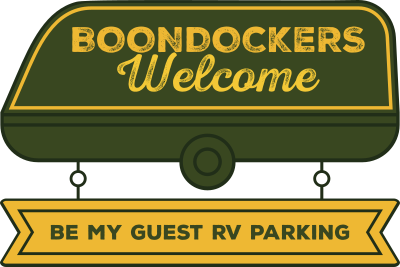 Hosts get a whole slew of perks. Chief among them is the 50% discount to the membership fee. The original fee is $50 for the whole year. As a host, it cuts down to just $25. Moreover, if you get a positive review as a host, you receive three free months of guest privileges that you can use anytime.
Guest members will need to pay $50 for the year. This is roughly the same as staying a night or two on campgrounds. If you aren't satisfied with the service, Boondockers Welcome has a 90-day money back guarantee.
After you plan your stay and sign up with the membership, all you need to do is coordinate with the people you want to stay with. You don't need to pay the hosts, but are welcome. A great gift would be a great review.
Campendium

The next resource we have is called Campendium. This is an app and website that allows for people to search for the perfect camping grounds for the next trip. This includes campsites for both paid camping grounds and those for boondocking.
Currently, people who use Campendium can take a look at over 21,000 sites within almost all the states and even Alaska. Use this tool to search for the perfect campground, look at reviews, and even get a visual idea of what the campground looks like.
The number of campsites searchable within Campendium include state and national parks, land owned by the government, and even free campsites.
The usefulness of Campendium doesn't end with the extensive library of campsites that it has. It also allows for people to search through a variety of filters. You can search via prices, discounts, features, amenities, and so much more.
There is also a whole section that the community fills out. You'll be able to read blog posts by people who have stayed at sites, reviews, and even photos of each site.
Campendium also has its very own quality assurance team. This team ensures that all the information that you are reading is up to date and accurate.
Boondocking Tips
Boondocking is not something that people learn overnight. Here are some tips that we can offer you to help you along the way.
Random Tips
Let's start off with a fairly simple one. If you know ahead of time that you will be boondocking, the first thing that you should do is make sure that you have enough food and drink to last you. This includes your water tanks (important!). You wouldn't want to find yourself hungry and thirsty in a place away from civilization.
Apart from that, ensure that your first aid kit and medicines are topped up for whenever you need them. Best to have it and not need it, as opposed to need it and not have it.
For electricity, you can elect to bring a generator. If that isn't to your liking, you can also generate electricity via solar panels that are installed in your RV.
Other Camping Areas
If by some twist of fate, you find yourself in the middle of your trip without a place to stay, don't panic. There are several other options that you can turn to.
As a tip, keep in mind that you can select several popular areas to park your RV at and stay overnight. These places include the parking lot of your nearest Walmart, truck stops, and even some hotels or motels.
For public places like these, the best thing you can really do is ask the people there if you can park. If, for example, a hotel's parking lot generally has a lot of parking spaces, they may readily allow you to park there.
Safe Travels and Peaceful Sleep
When compared to staying at campgrounds, boondocking may often feel like a frightening endeavor. However, many RV owners frequently practice boondocking to great effect. They save money, time, and meet new people along the way.
Like with everything, the first steps are always scary. However, more knowledge builds confidence to try out new things. These then often lead to experience and better boondocking practices in the future.
We hope that everything we have discussed will lead you to find the right free RV camping location for you, and that you have safe travels and peaceful sleep.